The new Xiaomi electronic thermometer and hygrometer is presented. It works up to 2 years without changing the battery

Xiaomi has introduced a new electronic thermometer that can also work as a hygrometer. The Xiaomi Electronic Thermometer & Hygrometer is equipped with a 35 x 35mm electronic ink display. Information is clearly visible from different angles
The device has a built-in high-precision digital Swiss Sensirion sensor. Slight changes in temperature and humidity, even caused by breathing, are easily detected by a sensor, which then reminds the wearer to adjust the temperature and humidity in time to improve indoor comfort.

The Xiaomi Electronic Thermometer & Hygrometer is powered by a CR2450 power supply, which lasts for 2 years in standby mode. In addition, there are magnets built into the electronic device, and there is a bracket and sticker on the back cover that can be used to attach the product to various surfaces.
The device also has the ability to store temperature and humidity data, which can be uploaded to the cloud via the Mijia app. The data is displayed in the app as a curve to help you understand changes in temperature and humidity.
The device can work with other smart home gadgets, including air conditioners, humidifiers and electric heaters, transmitting the information they need to work.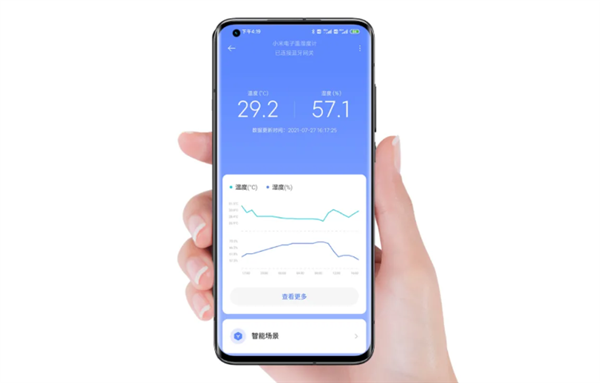 The device will go on sale on September 22nd for $ 8.