Natural Gas prices remain stable in a range between $3.20 and $3.70 in November.
The US dollar attempts to recover Tuesday's losses.
Natural Gas prices are expected to remain stable as both demand and supply are stable.
Natural Gas (XNG/USD) is rising 2% this Thursday on cooler weather prospects for northern Europe, while more broadly Gas prices are starting to form a pure technical range in the charts, as both supply and demand are showing signs of easing. On the demand side, positive data from China could point to a faster recovery and therefore a rebound in demand from Asia's largest gas consumer. From a supply point of view, there are no production problems or bottlenecks that could distort flows in the short term.
Meanwhile, the US dollar remains weak following Tuesday's sharp decline, when US inflation data revealed further easing of price pressures. With the US Federal Reserve likely to have ended rate hikes, bets are increasing on when the first cut will materialize, erasing positive rate differential support for the Dollar against most peers main. Traders will continue to look for clues, as the DXY Dollar Index risks further decline.
Natural Gas is trading at $3.38 per MMBtu at the time of writing these lines.
Daily Natural Gas Market Summary: European Cold Front
The latest weather models show that a cold front is approaching northern Europe and that temperatures in the Scandinavian capitals will flirt with 0° Celsius.
Natural Gas prices in Europe fell earlier for the third day in a row, as strong deliveries to the bloc are preventing gas from being removed from storages, which are still 99% full.
The mild start to the autumn and winter season in Europe has given the bloc a greater advantage in overcoming the coldest period.
The EU has published new rules on methane restrictions, so Liquefied Natural Gas (LNG) could see greater demand, as LNG is a greener alternative to the use of methane and is exempt from any emission reduction rules. emissions.
At around 15:30 GMT, the Energy Information Agency (EIA) will publish weekly US gas storage figures for last week. An increase of 40 billion cubic feet is expected, down from 79 billion cubic feet the previous week. Estimates range between 33,000 and 49,000 million.
Technical Analysis of Natural Gas: Weather models cause short-term volatility
Natural Gas has stabilized after a rather volatile month of October, in which tensions between Israel and Gaza shook gas operators left and right. With the news starting to fade in the region, and the EU not facing any substantial shortages this winter, it looks like Gas prices could trade in this range for some time. Unless a catalyst occurs that triggers a substantial shortage or oversupply, a breakout is not expected in the coming days.
If a war broke out in the Middle East, prices would skyrocket to a level of $3.64. If Iran, Saudi Arabia and other countries in the region began to mobilize their forces, a risk premium would apply. In that case, one would even expect a quick move towards $4.33, the 2023 high.
On the downside, the 55-day SMA is doing its job near $3.20, based on the high seen on October 4. In case this level cannot withstand the selling pressure, prices can be expected to decline towards the orange line, from the August double top near $3.06. This level should be the last line of defense before Gas prices fall below $3.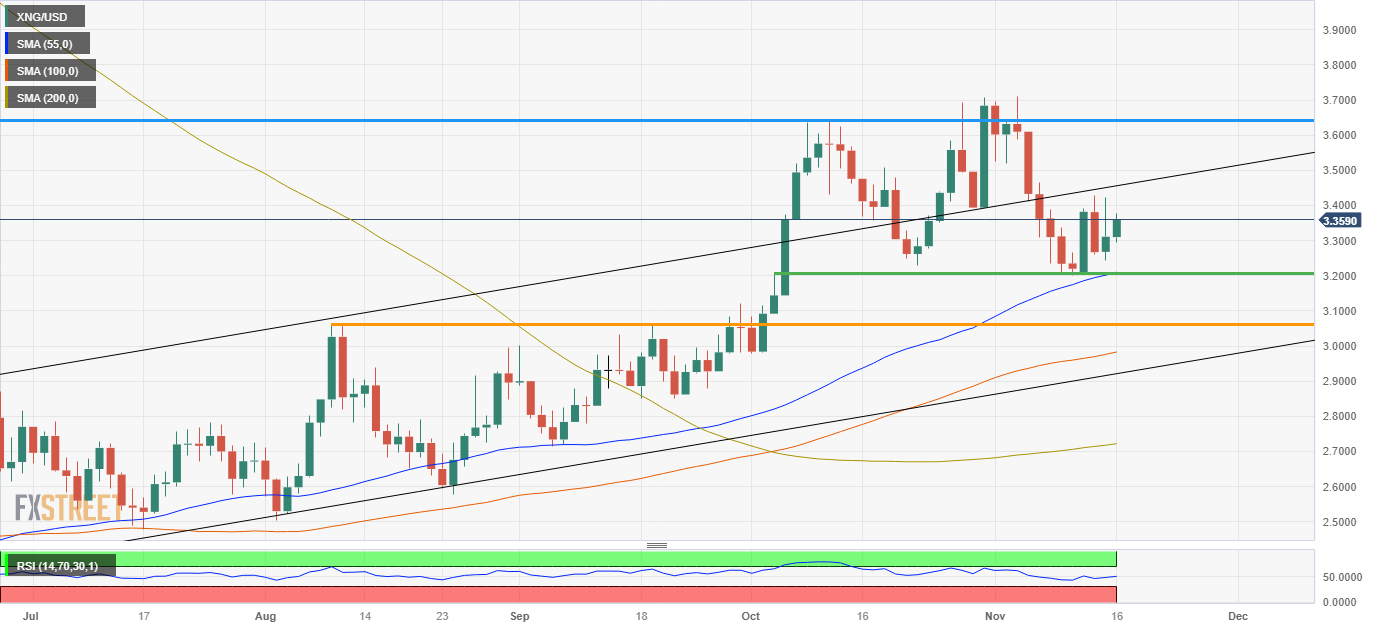 XNG/USD daily chart
Frequently asked questions about Natural Gas
What fundamental factors determine the price of Natural Gas?
The dynamics of supply and demand is a key factor that influences Natural Gas prices, and is in turn influenced by global economic growth, industrial activity, population growth, production levels and inventories. Climate influences Natural Gas prices because more Gas is used during cold winters and hot summers for heating and cooling. Competition from other energy sources influences prices as consumers may opt for cheaper sources. Geopolitical events, such as the war in Ukraine, also play a role. Government policies related to extraction, transportation and environmental issues also influence prices.
What are the main macroeconomic publications that influence Natural Gas Prices?
The main economic publication that influences Natural Gas prices is the weekly inventory bulletin of the Energy Information Administration (EIA), a US government agency that produces data on the gas market in the United States. The EIA Gas bulletin usually comes out on Thursday at 14:30 GMT, the day after the EIA publishes its weekly Oil bulletin. The economic data of the large consumers of Natural Gas can influence supply and demand, among which China, Germany and Japan stand out. Natural gas is primarily priced and traded in US dollars, so economic releases affecting the US dollar are also factors.
How does the dollar influence Natural Gas prices?
The US dollar is the world's reserve currency and most commodities, including Natural Gas, are quoted and traded in international markets in US dollars. Therefore, the value of the Dollar influences the price of Natural Gas, since if the Dollar strengthens, fewer dollars are needed to buy the same volume of gas (the price falls), and vice versa if the dollar strengthens.
Source: Fx Street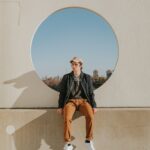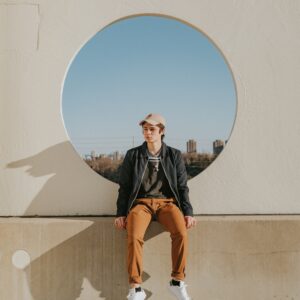 I am Joshua Winder, a senior-level journalist and editor at World Stock Market. I specialize in covering news related to the stock market and economic trends. With more than 8 years of experience in this field, I have become an expert in financial reporting.