NVIDIA's official presentation with the announcement of new video cards of the RTX 40 series should take place on September 19, but insiders are already publishing fresh tests of upcoming models from the new generation of graphics accelerators. Most likely, this is due to the fact that NVIDIA has already sent new video cards to journalists from specialized media, and one of them violated the embargo. For example, today, September 9, screenshots from the 3DMark Time Spy benchmark appeared on the network, in which the RTX 4090 video card was tested. If the screenshot is true, and with a high degree of probability it is, this model will be insanely productive.
The fact is that in the 3DMark Time Spy benchmark, the video card scored 20,192 points – this is almost twice as much as the flagship model RTX 3090 Ti once showed (it has 11,300 points). Of course, this is a benchmark, and not a real use case in a video game or special software for video editing or photo processing, but these figures from a synthetic test can roughly understand what the next generation of green team video cards is capable of. Still, the RTX 3090 Ti is NVIDIA's most powerful solution at the moment, and if the RTX 4090 is twice as powerful, then gamers will be able to immerse themselves in 4K gaming without any restrictions.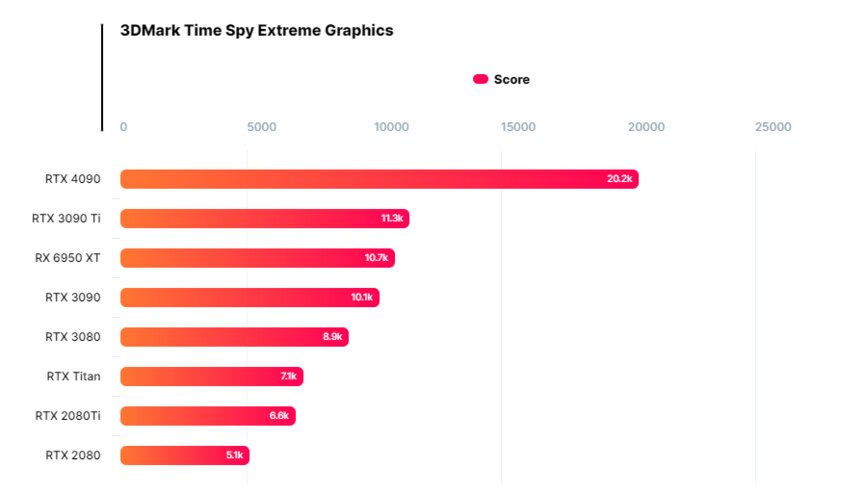 Moreover, there is a very important point regarding the cost of a new generation video card. According to insiders, the manufacturer will ask for $ 1,499 for the RTX 4090, which is about the same as options from partner companies. At the same time, the RTX 3090 Ti at the time of release was sold for $1999, that is, $500 more. It turns out that now gamers can get a graphics card cheaper than the enthusiast option, and with double the performance. At the same time, some secret information providers are already publishing data that the RTX 4090 will go on sale on September 20, that is, one day after the presentation.
But even if a twofold increase in performance may seem insufficient to someone, you should just wait for the overclocked versions from MSI or ASUS – on the insider's test, most likely, an engineering sample or a reference model with standard frequencies and not the best cooling. If ASUS introduces an overclocked graphics core option in the top Strix line, then the difference between the RTX 3090 Ti and RTX 4090 may be even greater. The only question is power consumption, which, apparently, will be just insane.
Source: Trash Box