The authoritative analytical agency Counterpoint has published sales statistics for premium smartphones (the organization includes all models over $400) for the first quarter of 2022. According to the latest data, the iPhone totally dominates the rest – Apple has sold more premium smartphones than all other manufacturers combined.
In the first quarter of 2021, the iPhone accounted for 57%
This is the second quarter in a row when this figure for Apple exceeds 60%. It is largely due, without exaggeration, to the overwhelming popularity of the iPhone 13 series. For example, in October 2021, the base iPhone 13 became the world's best-selling smartphone, and since then it has not lost a podium in a single month. And the global ranking of the most popular premium smartphones in the first quarter of 2022 is as follows:
iPhone 13 – 23%.
iPhone 13 Pro Max – 13%.
iPhone 13 Pro – 9%.
iPhone 12 – 8%.
Samsung Galaxy S22 Ultra 5G – 3%.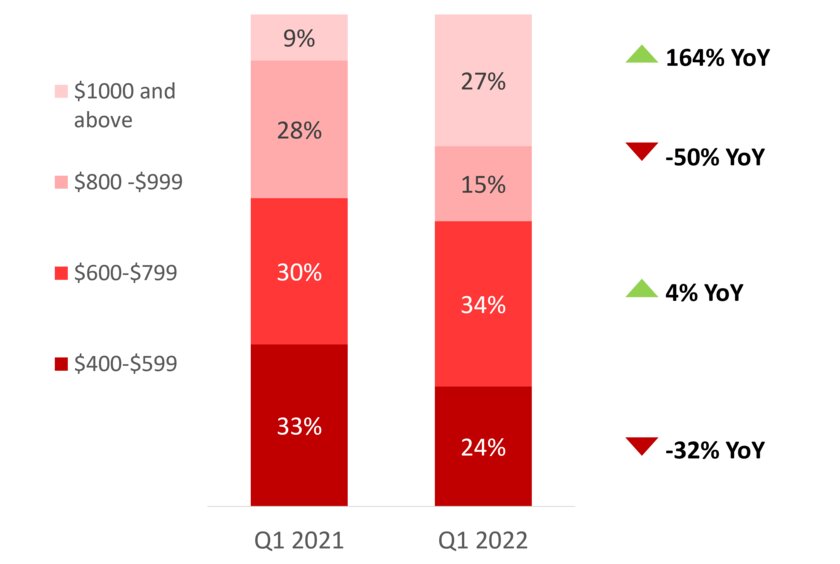 Although sales in the premium segment decreased compared to last year (as did the volume of the entire smartphone market as a whole), the share of expensive devices increased: almost 3 out of 10 smartphones sold were expensive models. The cost of premium devices increased by 0.5%, and the entire segment above $400 accounted for two-thirds of the revenue from all smartphone sales in the first quarter.
Source: Trash Box