- Article Top Advertisement -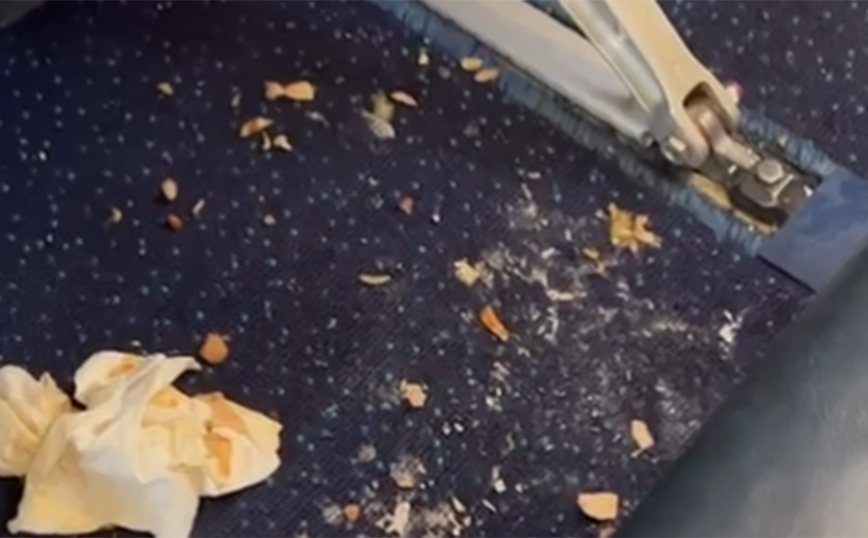 Imagine how much a family can look forward to a holiday after three difficult years with coronavirus, quarantines, mutations and outbreaks, which in some countries still remain very high. And how can this impatience easily turn into discomfort and nerves when the trip does not go as well as they had imagined.
- Article Inline Advertisement 1-
This is what happened to the Nagaur family from Britain who paid 2,500 pounds (about 3,000 euros) to fly to Turkey with the airline Corendon Airlines. Going to sit in their seats they found that the floor was covered with vomit and trash from a previous flight. But the crew insisted that they sit where their ticket indicated.
On August 11, Justine and Michael were set to relax in Turkey with their sons Zachary and Joshua on their first holiday together in years. They boarded the plane and suddenly she saw her son with a disgusted expression on his face. Going to sit in his seat he found a blanket on the floor that was quite… wet. When he picked it up he found that a passenger from the previous flight had puke and this was the way the crew had found to cover up the destruction that had been caused, according to the MyLondon report, cited by the Sun newspaper.
When the 52-year-old complained of vomiting, the flight attendants told her that she was complaining for no reason. "We were crammed into the plane trying to put our bags in the lockers and find our seats. I didn't understand at first what was happening until the kids said "wow" at the sight of the vomit," he said.
The family could not understand why the seats had not been cleaned between the two flights. "They told us that they had seen what had happened, but they wouldn't cause an issue on the flight because of the vomit. The company did not have a contract with a cleaning company, so the plane was not being cleaned," Justine said.
Watch the video after the photo:
The outraged mother reported that the crew required her sons to sit in specific vomit seats during the 4-hour flight. flight. But she was determined not to back down. It took half an hour for the children to sit with their legs up until they found another place for them.
"It was a fiasco. You feel like you're in a surreal situation, you feel like they're behaving wrong and at the same time they're indifferent to what's going on," he says.
And he continues: "At first you doubt yourself, you say I'm probably making a big deal out of it, and then you realize how disgusting everything that's happening is. It was the service that pissed me off. I was thinking, oh my god, we've had such tight restrictions with the pandemic and I'm sitting on a plane throwing up. Even before Covid you couldn't tolerate such a situation, let alone now. The planes they must be cleaned between flights," he points out.
The 52-year-old posted a video on Instagram in which she said, among other things: "The head flight attendant accused Mike of wanting to make a big deal out of it when he asked why the place hadn't been cleaned, pointing out that the smell made him want to throw up. He also accused another passenger who was taking pictures saying he is trying to make money." The family does not know if they will travel with this company again.
Source: News Beast
I am Derek Black, an author of World Stock Market. I have a degree in creative writing and journalism from the University of Central Florida. I have a passion for writing and informing the public. I strive to be accurate and fair in my reporting, and to provide a voice for those who may not otherwise be heard.
- Article Bottom Advertisement -