As the voting for the referendums held in its four regions Ukrainian which are controlled by Moscow, their inclusion in Russia may be announced as early as the end of the week.
Although Kyiv, Western countries and many observers consider these votes held in the Russian-controlled regions of Ukraine "mock referendums", Moscow intends to maintain the pretense of a legal process.
"Preliminary results" are expected to be announced by Moscow-appointed "election commissions" in each region as early as this evening or in the coming days.
Express vote in the Duma
If he wins "yes" – something about which there are no doubts – the Russian parliament will vote on a treaty that will formalize the inclusion of these four regions in the Russian territory.
According to APE-MPE, the Russian agencies TASS and Ria Novosti, citing parliamentary imgs, reported over the weekend that the relevant bill may be submitted to the Duma this evening and adopted the following day during an extraordinary session.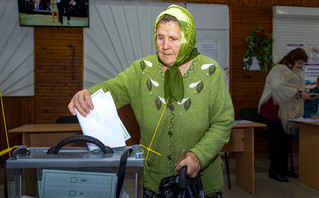 Duma Speaker Vyacheslav Volodin said on Friday that "will support" the integration of pro-Russian controlled areas into Russiaafter a referendum.
The bill will then have to pass through the upper house, the Council of the Federation. It is a formal process that may have been completed by Wednesday or Thursday, according to Russian agencies.
"On September 30, Putin will announce the integration of the occupied regions into Russia"
The Russian president Vladimir Putin is likely to announce the accession of occupied regions of Ukraine to the Russian Federation on speech he will deliver to parliament on September 30according to the British Ministry of Defence, while Mihailo Podoliak stated that Ukrainians who help hold the referendums will face charges of treason and prison terms of at least five years.
In the meantime, the Ukrainian presidential adviser Mykhailo Podoliak he stated in an interview with the Swiss newspaper Blick that "we have lists of names of people who have participated in some way" in the holding of the referendums.
"We are talking about hundreds of collaborators (of the occupation forces). They will be prosecuted for treason. They face prison terms of at least five years," he added.
Podoliak said that Ukrainians who were forced to vote would not be punished.
Moscow hopes to annex the provinces of Kherson, Luhansk, Donetsk and Zaporizhia in eastern and southern Ukraine, which make up about 15 percent of Ukraine.
Source: News Beast