THE cyclone Ian slammed into South Carolina on Friday, with strong winds and heavy rainfall causing major disasters in wide areas of Floridawhile they also left dozens of victims.
The authorities of this southeastern state of USA they confirmed night one new tally of 23 deadmost of whom were elderly people who died of drowning.
Some US media reports an even heavier toll of casualties, with CNN to speak of 45 dead.
After wreaking havoc in Florida, Hurricane Ian headed toward South Carolina, making landfall in Georgetown in the early afternoon as a Category 1 hurricane, packing winds of up to 90 mph (140 km/h), according to the National Hurricane Center (NHS). , which is headquartered in Miami.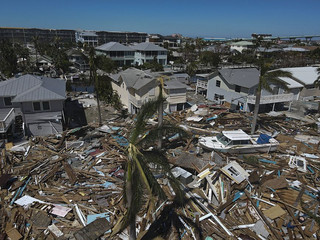 According to a first rapid study by American scientists made public, rainfall associated with Cyclone Ian was increased by at least 10% due to climate change.
"Climate change didn't cause the cyclone, but it made it wetter"explained one of the scientists involved in this study, Michael Wehner of the Lawrence Berkeley National Laboratory, which depends on the US federal Department of Energy.
Before Florida, Ian had hit Cuba, causing three deaths and significant damage there and leaving many homes without electricity.
Source: News Beast