This article was published in issue 4 of 2016 and we present it again today to retrace the changes of which Vanity has been the protagonist in the last 20. Here are all the articles we are republishing.
«One day I was listening to the radio
I heard a song:
I long to see my mother
in the doorway.
My God! I said, I understand. Many times I wanted to see my mother on the doorstep."
(Grace Paley, Small mishaps in life)
You only know what a dying mother means when it happens to you. Victoria Puccini it belongs to those who know it and who from that moment try, broken, to repair themselves, but will never completely make peace with the void left by those who brought them into the world. "You can't get used to it," she shrugs while sitting at her kitchen table.
It's a Roman winter morning, the sun comes in through the windows, with the sound of construction down in the street. Vittoria has been walking "without" for almost four and a half years. Since September 2, 2011, when she, still dressed in the long dress of a godmother, had to escape from Venice in the middle of the festival, and reach Florence in a hurry, because a tumor not only arrives and doesn't warn, but it doesn't even joke.
His mother Laura was 59 years old. And breast cancer, with a good chance of being familial. «Already then a doctor friend told me: do the tests, because you have other cases in the hereditary axis, and it is aggressive. But I had something else to worry about: moving forward."
It was Graziella Bonacchi, her agent, who shook her. «When she took me I was nobody: I ​​had just moved to Rome, I was looking for advice and direction. A friend sent me to her: "She's tough, but she's the best of hers. I was expecting two tips, and instead she looks at me: "I'll take you." From there, she was a second mother, the only one truly capable of putting me back on my feet when I lost mine. I was in the blackest darkness. She told me: "You can't stop your life too, Vittoria. She wouldn't want it. And there is no worse spite you can do to her: she already loved you and left. Get up, now. You owe it to him."
The phrase remains in Vittoria's head. Even when she read, on May 14, 2013, «the clean and generous story» with which Angelina Jolie traces back to New York Times the double mastectomy she underwent, perhaps the most intimate operation for a woman. That letter hits her. «Where most people had always used periphrases such as "dark evil", "incurable disease", she found the courage to call him by name, just one, hers: "cancer". And by speaking about it publicly, handing it over to humanity, she was already making it clearer and more curable. She had had her breasts removed to prevent the risk of developing the cancer that had been fatal for her mother (died at 56 years old, ed.), his grandmother and his aunt. She had done the tests, discovering that she had the Brca1 and Brca2 gene mutation, which for oncologists means carrying in the body a strong predisposition to get breast and ovarian disease." In 2015, in March, Angelina will remove those too. Six months from now, just four years after the September in which her mother died, Vittoria will also lose her own, and at 51 years of age, her "second mother" Graziella due to her cancer.
These are the days when specialists at conferences tighten their shirts: "More and more under 50s are affected by carcinoma."
So, he convinces himself to take the test. «Science gives us prevention: catching it in time is the weapon we have. One evening I talked about it with my partner (the director of photography Fabrizio Lucci, ed.): I should do some tests, perhaps, but they scare me. "Fail them, because you win anyway: if they are negative, breathing a sigh of relief, but also if they are positive, because you would know, and only by knowing can you save yourself"».
"I went. I also did it for my daughter. If it wasn't certain that my mother had become ill due to the mutation of those genes, the only way to know if she could have passed it on to me, and I to my daughter, was to walk through that door. Fear had turned into prudence, like when we go to the carousels and roller coasters Elena laughs: "You mum stay down, right?". And then I'll go up too.
«The doctors had explained to me that, in case of a positive outcome, there is certainly no need for surgery. It depends from case to case. Maybe it would have just been a matter of intensifying the screening, crossing them, following a different protocol of deadlines for mammograms and ultrasounds."
The wait for the results lasted a month. «They have been endless and restless weeks. I was on holiday when I got the call. Good news, liberating scream. Not being predisposed did not mean: you will never develop cancer. And it's true that it can come to you the morning after "Don't worry, I'll see you again in a year" and grow inside you without you realizing it: however, we have a duty to control ourselves, because even if we find it it will certainly be more restricted and then, perhaps, even less severe chemotherapy. Because it's not just that cancer can lead to your death. But it's how it can get you there."
Someone said that Angelina was too "anatomical", that she could have spared herself the details, that having parts of herself cut off before even being loved is a gradual emptying out that resembles dying. «Evidently it was what she had to do. I admire it." Angelina says she wants to grow old. "Me too. And I wouldn't go back to high school: I was a very insecure little girl, with an uneasiness that wouldn't go away. Instead, now the more I grow, the more I see my mother in her mirror, and I feel her still living. She was an example of fairness, honesty. Of Graziella's pasta: true to themselves, proud."
In the last film in which he is the protagonist (Tiramisu, at the cinema from 25 February, the directorial debut of Fabio De Luigi), Vittoria is a teacher like her mother was. «Aurora leaves happy, even if her existence is not perfect: she doesn't have a permanent job, but she gives tutoring, she's good in the kitchen. Above all, she makes a magical tiramisu, which her husband, a pharmaceutical representative, will use – with trays given to heads and senior managers – to win tenders and sell products. But this very climb, complete with a move to a dream villa, will correspond to the ethical impoverishment of the man she loved. When Aurora realizes the ugly and unexpected turn to which she is complicit with this production of sweets, she will distance herself from it." Soft woman, but all of one piece. A portrait that fits her like a glove too. «I am someone who tends to give and trust. Overcoming shyness. But if I'm betrayed, I can't mediate that. It is the wounds that lead me to the most resolute and definitive choices. I don't forgive."
Here she is the "wife", which she never was in life, neither then of Alessandro Preziosi, with whom she had her only daughter, Elena, nor yet of Fabrizio Lucci, who has been accompanying her since 2012. "The myth of the veil I've never had white. I feel like a wife even without a wedding ring on my finger. And I find it absurd to have to get married for a financial matter, or to decide her fate in extreme evils. As adults it should be enough to live with the other for it to mean wanting them forever."
The story with Fabrizio was immediately powerful. «And today more than yesterday I know that there is nothing better, I don't want anything else and if I miss something it's him, when he's far away». Are you afraid it might change? «Not if certain principles remain the same. No, if in gradually defining ourselves as different, in substance and truth we remain identical."
His Aurora, always in Tiramisu, is also dealing with a brother (Angelo Duro) who changes a model a week: the daughter experiences the worst of having separated parents. Elena, however, was lucky in this regard. «Alessandro is a golden father, he dotes on me, I'm never worried when he's the one holding her: the important thing in my opinion is that the channel of love isn't interrupted. If it goes like this you can make mistakes, but not irremediably."
After much "egg-beating" as a matter of course, Vittoria does not keep the recipe for the perfect tiramisu, claiming to be among the best customers of a pastry shop renowned in the capital for making it delicious and light. «But in my attempts I am from the Pavesini party and not from the Savoyards. I do better with chocolate cake. It doesn't come out as perfect as it did to my mother, because it always cracks a little, but the flavor is the same." Some time ago, on the eve of his first time at the theater with Cat on a Hot Tin Roof, had joked about having to resort to psychotropic drugs. She didn't need it. «Nicole Kidman told me that she, when she was on stage in London with Photograph 51, every evening behind the scenes her legs trembled. Then I convinced myself that if I'm shaking all over, it's normal. Even at the ninetieth repeat."
Maggie, her character, makes her feel "alive, pulsating with passion", perhaps because she reacts to a climate of death, facing the distance of a husband locked in alcohol due to the suicide of her best friend and the difficult relationship with her unaware father of the cancer (again) that devours him.
His father, when needed, is close to her and holds Elena for her: «He's a grandfather, he plays with her, he cooks for her, and never mind if he burns the griddle by putting floured chicken breasts on it. Fabrizio and I, on the other hand, give our best in the kitchen." The secret dream is to open a restaurant together.
People still stop her for Elisa of Rivombrosa, and since 2003 the compliment he loves most has remained "You moved me". "But at the beginning there were those who called me a showgirl who came out of nowhere."
Asking her to force her memory back to the first memory, she closes her eyes and goes back to when "my mother called me from the kitchen while I was still in the garden, lunch was ready, and the scent reached me outside". Three years ago, when I interviewed her, she described another happy image of her from her childhood: she was a child holding a stuffed rabbit in her arms, which she would later pass on to her daughter when she grew up. «When I left to take the photos for this service in Paris, Elena looked at me and, perhaps with the fear left over from the attacks, she said to me: "Please be careful, mum, be careful". Moms always come back, I thought. It's been a long time, for example, since I've dreamed of mine. And yet the other night it happened. She was here, smiling, the way she looked when she was well."
Suddenly she becomes small, this time in her kitchen, and in that new house in Rome that her mother didn't have time to see. She «she took the ladder that leads up to her in the attic. "But it's a wonderful place," she exclaimed, looking at the Christmas decorations and my other things stored there. As if she wanted to continue to teach me: happiness does not lie in luxury, but in a simple, secret, warm place, in the chaos of everything you accumulate and represents you." Moms always come back.
Source: Vanity Fair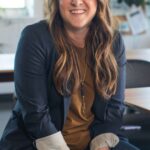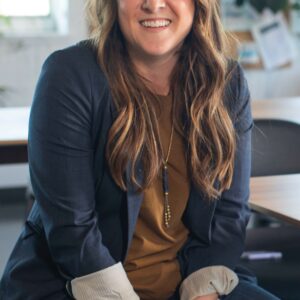 I'm Susan Karen, a professional writer and editor at World Stock Market. I specialize in Entertainment news, writing stories that keep readers informed on all the latest developments in the industry. With over five years of experience in creating engaging content and copywriting for various media outlets, I have grown to become an invaluable asset to any team.