This is what you need to know to trade today Monday October 3:
Stock markets are trying to establish a bottom on Monday despite some Tesla (TSLA) headwinds over the weekend. Delivery figures were lower than expected, but still showed annual and monthly growth. Apple (AAPL), meanwhile, continues to suffer from last week's downgrade and a Bloomberg article on iPhone 14 demand. However, there is a positive tone today, with analysts appearing reasonably pleased with the Tesla news despite of the stock price reaction in the pre-market. Let's see if this is the ground for now.
In the UK, the farce continues with the prime minister backing down on her tax cut plans. The British Pound has risen a bit but the Dollar is flat overall as it again tests the resolve of the Bank of Japan. The dollar index rises to 112.30. Bitcoin and gold rise slightly to $19,200 and $1,667, respectively, while oil rises to $83.40. OPEC talks about cutting supplies by 1 million barrels a day.
European markets rise:
Eurostoxx: +1.2%
FTSE: +0.5%
Dax: it's flat
US futures also higher:
S&P 500: +0.8%
Nasdaq: +0.85
Dow-Jones: +0.5%
wall street news
The OPEC+ talks about cutting oil supply by 1 million barrels per day.
The United Kingdom reverses its tax cut plans.
Tesla (TSLA) failure to estimate deliveries.
The actions of Credit Suisse (CS) they go back down for talks about swapping CDS, finances, etc.
Stanley Black & Decker (SWBK) cut 1,000 jobs.
Vodafone (VOD) confirms talks with Three UK.
Platoon (PTON) partners with Hilton to place its product in all Hiltons in the US.
Robinhood (HOOD) closes five offices.
Modern (MRNA) refuses to provide China with data on the coronavirus vaccine.
Apple (AAPL): Morgan Stanley says the decline in app store revenue could be the worst in history. Evercore says iPhone 14 Max and Pro orders look strong.
ABB (ABB) Spin-off from Acceleron completes.
Levi Strauss (LEVI): Bank of America says it's the best in its class.
Freshpet (FRPT): Barrons reports that he has hired bankers for a possible sale.
Upgrades and rebates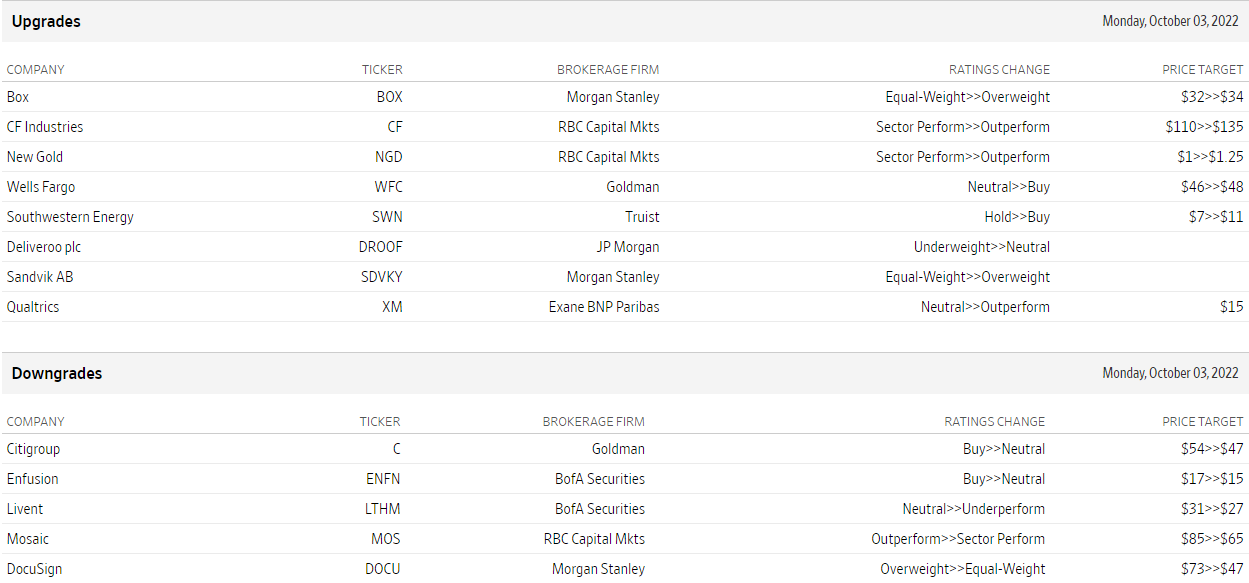 Source: WSJ.com
Economic data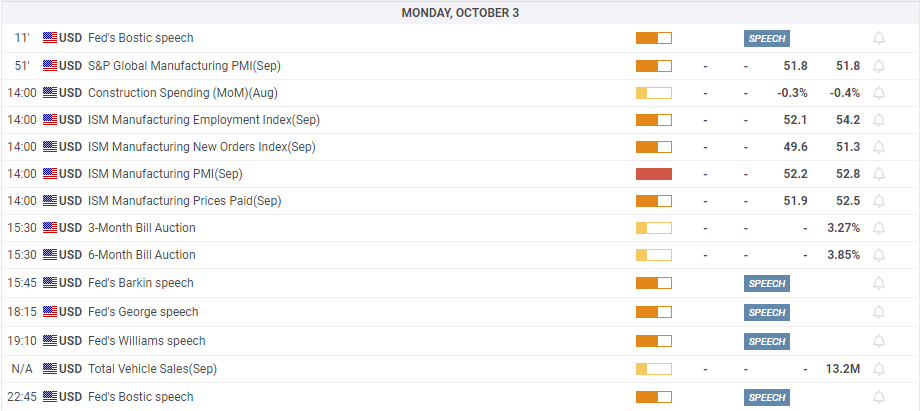 Source: Fx Street