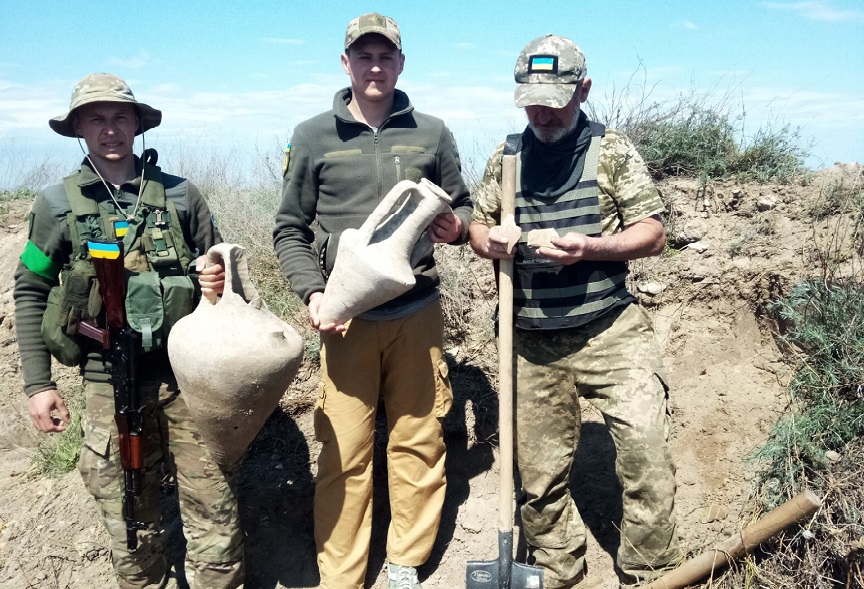 Ukrainian soldiers discovered a whole collection of ancient Greek amphorae in Odessawhile digging defensive trenches to stop it Russian invasion.
Members of the 126th Defense Unit of the city "hit" the amphorae with their shovels, which date from around 400 BC. and have narrow orifices, which means that they were used to store and transport mainly liquids.
They immediately stopped and carefully removed the amphorae from the ditches.
The unit announced its discovery on Facebook.
Despite the fact that the state of war forbids official archeological excavations, the soldiers transferred their findings to the archeological museum of Odessawhere amphorae are cleaned and sorted.
At this point, the excavation was stopped, in order to protect the ancient ones until an official excavation is allowed.
Human Rights Watch documents "obvious war crimes" by Russian troops
The Human Rights Watch announced on Wednesday (18/5) that it has documented more cases of "apparently war crimes" by Russian troops in two regions of Ukraine.
The human rights group says in a report that Russian forces control much of the Kiev and Chernihiv regions from late February to March. subjected civilians to summary executions, torture and other serious abuses.
The report refers to what HRW says it is 22 summary executions, nine other illegal homicides, six possible enforced disappearances and seven cases of torture. Twenty civilians told HRW that they were being held illegally in inhumane and degrading conditions. HRW called for the alleged abuses to be "investigated impartially and prosecuted appropriately".
Kremlin spokesman Dmitry Peshkov and the Russian Defense Ministry did not immediately respond to a request for comment from Reuters.
Russia denies targeting civilians or engaging in war crimes and accuses Ukraine of committing atrocities aimed at tarnishing Russian forces.
Asked more generally about allegations of war crimes committed by Russian forces in Ukraine, Peshkov told Reuters: "We consider it impossible and unacceptable to make such terms."
«Many of the cases that Ukraine is talking about are obviously fake, and the most egregious ones are fabricated, as has been convincingly proven by our experts.»he said.
HRW reports that it visited a total of 17 villages and small towns in the Kiev and Chernihiv regions and interviewed 65 people between April 10 and May 10, including former detainees, people who said they had survived torture, families of victims and others. witnesses. Reuters could not immediately verify the allegations relied on by HRW.
The report went further than a statement released in April, in which the Human Rights Watch said it had documented «several cases of war violations by the Russian military» in areas controlled by Russia, such as Chernihiv, Kharkiv and Kyiv.
Russia calls its actions in Ukraine a "special military operation" aimed at weaken its southern neighbor's military capabilities and arrest those it considers dangerous nationalists.
Kyiv District Court on Wednesday (18/5) began the hearing in first war crime trial against Russian soldier involved in February 24 Russian invasion. The soldier, who is accused of killing a 62-year-old civilian, told the court he was guilty.
Ukraine says it has identified more than 10,000 possible war crimes.
Source: News Beast