"Wattmonster" in a new way. Samsung Galaxy M21 2021 gets 6000 mAh battery, updated 48MP camera and Super AMOLED screen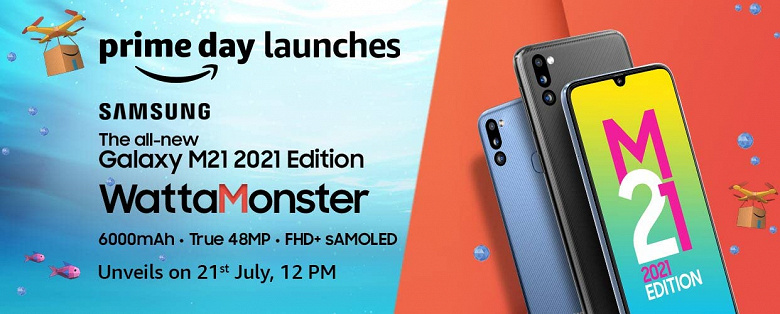 Samsung has revealed new details about the Galaxy M21 2021 smartphone. Recall, earlier it was said that this model will become a full clone of the Galaxy M21, and its only difference is in the pre-installed Android 11 (Galaxy M21 came out with Android 10, and only then received Android 11 with the update firmware). But in fact, the novelty showed a few more differences from its predecessor.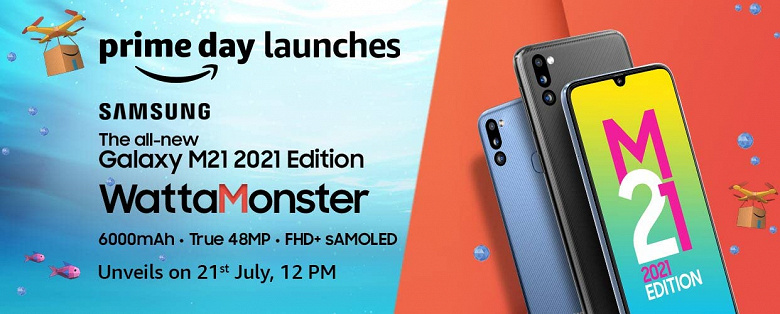 Samsung Galaxy M21 2021 has a new camera sensor: ISOCELL GM2 instead of ISOCELL GM1. And although there is no difference in resolution (both there and there – 48 megapixels), the quality of photos and videos in the Galaxy M21 2021 should still improve slightly. Together with the new sensor, the design of the main camera has also changed: if earlier all the modules were assembled into one unit, now two sensors are combined together, and one is made separately. While the original Galaxy M21 had three colors, the Galaxy M21 2021 has only two: blue and black.
Samsung Galaxy M21 2021 received a 6000 mAh battery, for this reason Samsung calls the new product "Wattmonstrom". The smartphone is built on the Exynos 9611 platform, has 4-6 GB of RAM and 64-128 GB of flash memory. Also in the configuration are 20MP front camera, rear fingerprint scanner, Android 11 OS with One UI 3.1, LTE modem, 802.11ac and Bluetooth 5.0 adapters, USB-C port and a standard headphone jack.
As indicated in the teaser, the official premiere of the Samsung Galaxy M21 2021 will take place on July 21 (the date is very symbolic) in India. This model will be an Amazon India exclusive in the local market.
.