In 2020, in the wake of the semiconductor crisis, MediaTek became the market leader in mobile chips in terms of shipments. For the first time, a Chinese company overtook an American one and held on to first place – a turning point occurred. There are many myths around MediaTek-based smartphones from the old days. Which of them can be dispelled, and which ones still have a place to be – it's time to figure it out.
Why is it customary to dislike MediaTek?
Many years ago, MediaTek was the lot of very inexpensive smartphones from little-known brands that were based on a reference, that is, a very unstable and raw smartphone preparation from MediaTek itself or a few factories. Such companies simply did not have the resources to refine the basic software responsible for interacting with peripherals – a display, a camera, and other devices. This is largely why there are stereotypes about MediaTek slowing down the interface, poor networking and a weak camera with seemingly good hardware.
As soon as large companies took over MediaTek, the situation began to improve rapidly. And to this point, it's hard to tell a MediaTek user experience from a comparable Qualcomm Snapdragon or Samsung Exynos without looking at the specs or special software. Now even the flagship based on MediaTek does not seem to be something out of the ordinary. After all, the older models of Dimensity are not inferior to Snapdragon 8-series. However, let's talk about everything in order.
What is really important for a mobile chip
First of all, a few words about terminology. The part of a smartphone responsible for performance is traditionally called the processor. In fact, on one chip of any Snapdragon chip there is not only a processor, but also a video core, a modem, all the necessary controllers, as well as many other auxiliary components. Their unity forms a single-chip system (from the English System-on-a-Chip – SoC) or a chipset. Knowing the power of habit, I don't hate the word "processor", but it is necessary to understand the difference and remember this important nuance.
That is why the characteristics of a single-chip are not limited to the number of cores and their clock frequency. However, it is unlikely that it will be possible to understand all the nuances right off the bat, so we will concentrate on the main thing.
Characteristics of processors that you should pay attention to when buying a device:
Process technology: chipset manufacturing technology, characterized by the resolution of the equipment used in the production of processors. Ceteris paribus, the thinner the process technology – fewer nanometers (nm), the more economical and colder the chip turns out.
Number and composition of processor cores: the more cores the better, but not always. It's all about the composition and generation of nuclei. Energy-efficient Cortex-A5X, high-performance Cortex-A7X and mega-performance Cortex-XX can be combined in different ways, and it will depend on this performance, efficiency of distribution of tasks and, as a result, the final economy.
Core clock speed: again, the higher the frequency, the better, but only when comparing cores of the same architecture. Depending on the load I of each core, there may be a different current frequency, the comparative table indicates the maximum for each of the clusters.
Graphics accelerator: in other words, it is a smartphone video card integrated into a single-chip system. MediaTek now use reference Mali graphics chips from ARM, and in the past came across PowerVR models from Imagination Technologies. Please note that the abbreviations MP and MC in the characteristics are the same thing. They indicate the number of GPU cores.
Modem: MediaTek uses its own modems for 4G and 5G networks, but does not label them in any way. Instead, specifications often, but not always, indicate the speed capabilities of the modem being used. The higher the category for 4G or the release number for 5G, the faster the speed. Moreover, DL is loading, and UL is unloading. Please note that support for certain ranges remains at the mercy of manufacturers, check this point individually for each smartphone and even region.
For clarity, each chip in the plates will be color-coded depending on its relevance.
🟢 – a good modern representative of the series;
🟡 – an average, which is still relevant, but is not the best choice;
🔴 – even if it is a popular, but for various reasons, suboptimal model.
Dimensity is a new name in the 5G world
For the development of 5G, at the very end of 2019, the Dimensity series was introduced. At first, the line was exclusively flagship, and now it also includes medium-sized chips for simpler smartphones. In addition to the 5G modem, the emphasis is on overall performance, stability under load, and better power efficiency through a thinner process technology that is not available to the Helio family.
There are very few models yet, but MediaTek has already seriously messed up with digital indexes. For example, the flagship models first came out under the 1000 index, and now they have moved to 9000. There are also several medium lines, from 700 to 8000. To streamline all the models, I divided them into older and medium ones.
Senior Dimensity: 9000 and 1000
Almost for the first time in history, the older MediaTek Dimensity chips compete on equal terms with the flagships Qualcomm Snapdragon and Samsung Exynos.
The flagship Dimensity 9000 is a serious competitor to the older Qualcomm Snapdragon Gen 1 due to the same three-cluster layout, led by the Cortex-X2 core. However, MediaTek wins when it comes to stability under load. That is, the Dimensity 9000 heats up less and better maintains maximum performance during, for example, a long game. Although the graphics from Mali are traditionally inferior to Adreno. Also in the flagship league are the Dimensity 1300 and Dimensity 1200, which use a layout with an additionally overclocked Cortex-A78 core. They are comparable to the Snapdragon 870 and other similar Snapdragon models, again with less powerful graphics.
💡Note: MediaTek has many models with the same characteristics, but only at first glance. A fresher chip may have an updated instruction set (which has a slight impact on performance), a fresher modem, or other minor improvements.
The younger models are also worthy of attention: they have a thin process technology (which means good power efficiency) and modern productive cores. However, they have already moved into the sub-flagship class and compete with the mid-level Dimensity from the next subtitle. Only Dimensity 1000C should be rejected from the entire flagship line due to reduced clock frequencies, as well as simplified graphics and modem compared to the original Dimensity 1000.
Medium Dimensity: 8000 and others
The ideology of the middle peasants from the camp of Dimensity coincides with Snapdragon 7-series. These are chips for sub-flagships. They have modern technologies on a thin process technology, but with more modest performance compared to true flagships.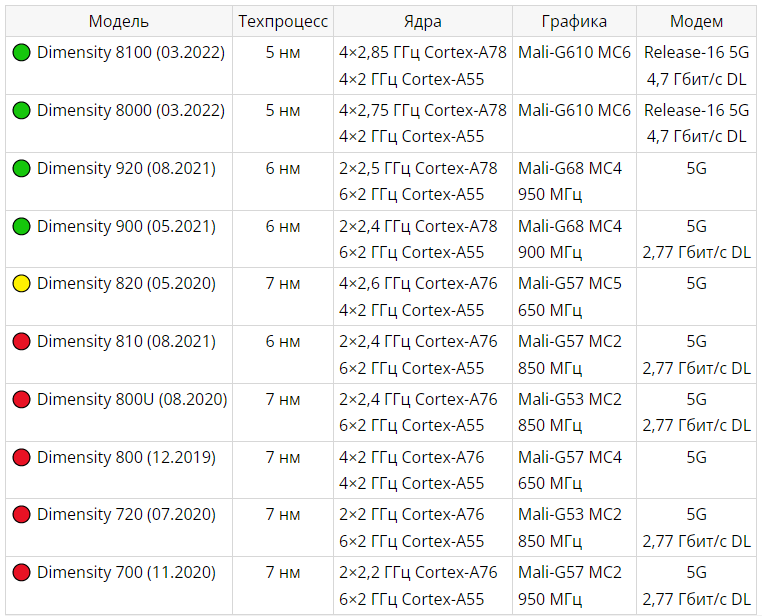 *for some MediaTek chips do not indicate comprehensive information about the modem
The Dimensity 8100 and Dimensity 8000 seem to be a solid sub-flagship chip with an excellent margin of relevance. The case when the performance is really only a step below the current older model. Last year's Dimensity 920 and Dimensity 900 give much more modest results due to fewer productive cores and different graphics. However, they will remain relevant in the coming years due to the full range of modern features.
Chips including and younger than Dimensity 820 are worthy of consideration only in the inexpensive segment. In terms of performance, they are slightly above or at the level of the older Helio G representatives, but at the same time offer better energy efficiency and a built-in 5G modem.
Helio G – middle peasants with an emphasis on gaming
Taken as a whole, Helio are 4G capable chips. If in particular, Helio G at the time of release was positioned for mid-range gaming smartphones. However, over time, new representatives were deprived of a more subtle process technology, which is why they moved into the class of inexpensive solutions.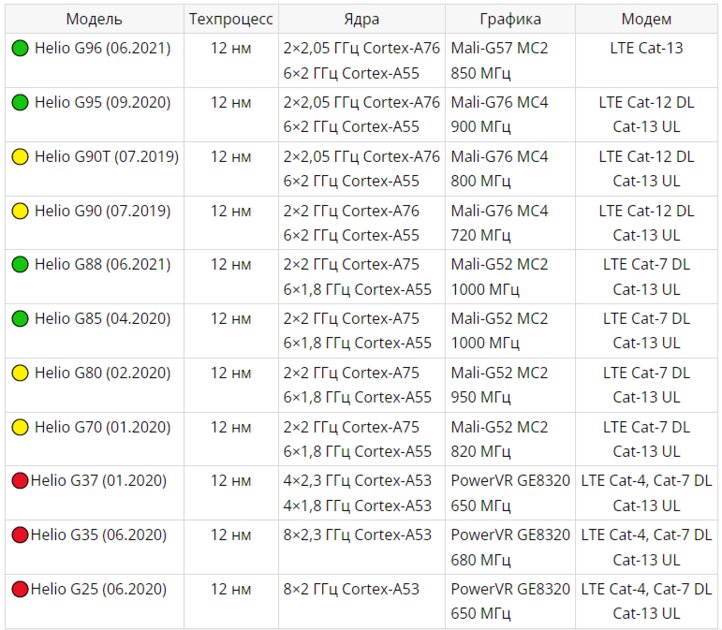 At the moment, representatives of Helio G are divided into two camps. In the arsenal of chips older than the Helio G70, you can easily perform everyday tasks, good graphics and long-term work under serious load without throttling – without reducing clock frequencies. Worthy of close attention Helio G96 and Helio G95 in the more expensive segment, and Helio G88 and Helio G85 in the cheaper segment. Older models in the face of Helio G90 and G90T, Helio G80 and Helio G70 also remain relevant and are actually slightly inferior to their counterparts.
💡Some models have an overclocked T-versionslightly differing in higher clock frequencies.
The base Helio G25, Helio G35 and Helio G37 are very weak chips that are still found in the most inexpensive devices to this day. Their roots go back to the initially budget, but already outdated Helio A series. These chips do not provide everyday comfort. Even in a budget of up to 10 thousand rubles, where there are very few alternatives, you should pay attention to UNISOC Tiger.
Helio P – basic chips today
Once an ambitious mid-series, today it is the surviving base of the MediaTek lineup. In my memory, it was the representative of this series in the face of Helio P60 that began to break the bad image of the company's developments.
Today, very few representatives of the P-series are worthy of attention. First of all, Helio P95, Helio P90 and Helio P35 due to modern Cortex-A75/Cortex-A55 cores. However, at the same cost as the G-series, as a rule, these chips provide less productive graphics. And the younger Helio P35 has a very old PowerVR GE8320 graphics chip, which debuted more than 5 years ago. For very inexpensive smartphones, you can still consider the Helio P70 and Helio P60, but these models can already give in even in everyday scenarios.
Other representatives of the P-series hardly deserve attention due to their layout (8 energy-efficient Cortex-A53 cores) or the process technology thicker than 12 nm.
Which MediaTek chips should not be taken
The company has been releasing mobile platforms for more than a year, and therefore there are a number of hopelessly outdated lines in the lineup. For example, Helio X used to be flagships and received all the latest technologies. But the line has not been updated since 2019 and has de facto given way to Dimensity. Also without new models was the Helio A series, originally created for budget models. Her place was taken by the younger representatives of Helio G, and without fundamental differences and innovations. Finally, in the MediaTek lineup there are chips that do not belong to any lines, but have only a digital index of the MT67XX format. All of them are hopelessly outdated and unworthy of attention.
Source: Trash Box