A laptop for work must have a number of characteristics that turn it from an ordinary computer into a professional tool. A striking example of a high-quality laptop for work is the Huawei MateBook D 16. However, we are not only talking about the diagonal of the screen or the installed hardware, it's all about the additional features that add up the experience of use. And in this sense, MateBook has something to please.
Huge display is convenient and safe for the eyes
When talking about a large laptop, they usually mean 15 inches, but here it is a 16-inch IPS matrix with FHD resolution and 100% sRGB coverage. Professional software looks good on such a diagonal, it is possible to place two windows on the screen at once. It seems that before your eyes is not a portable laptop, but quite a full-fledged monitor. That is, each time you do not need to connect to an external screen to work. Eye health is safe. Firstly, there are no glare on the matte finish that strains the eyesight. Secondly, Huawei has provided a special mode to reduce the intensity of the harmful blue glow. No glare and blue intensity tested and approved by the German auditor TÜV Rheinland.
Pay attention to the frames, they are very thin in a modern way
The huge 16-inch display fits into the dimensions of a 15.6-inch classic laptop thanks to a very thin bezel. In addition, the MateBook D 16 is made of metal with excellent wear resistance and rigidity for a long service life. With all this, the laptop weighs 1.7 kg and fits easily into a backpack, which means you can always take it with you.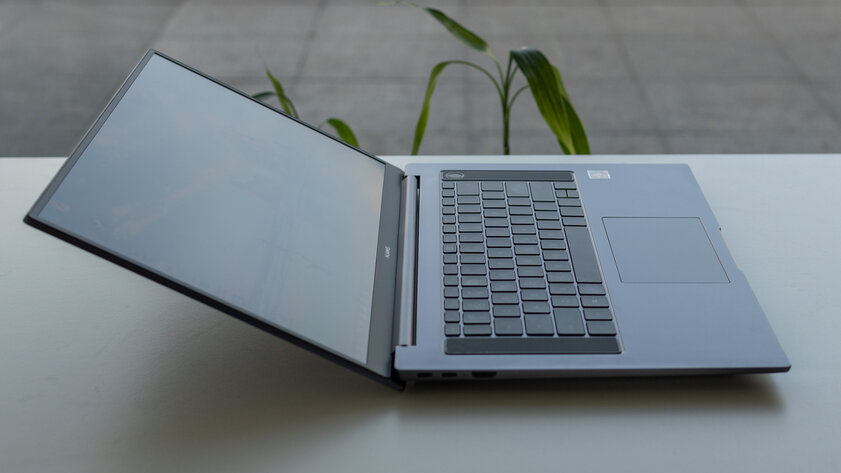 And the lid opens to a large angle, making it more convenient to use.
Concerned about privacy and security
There is enough sensitive information on the computer that should not end up in unauthorized hands. MateBook D 16 user files are securely encrypted using Windows, and the key is stored on a separate TPM 2.0 chip. Accordingly, the password must be long and complex so that it cannot be guessed. Fortunately, you don't have to enter it every time, the fingerprint scanner in the power button is responsible for a quick login to the system – just put your finger on it. And it will not work to spy on the user, the camera hides in the case when it is not needed.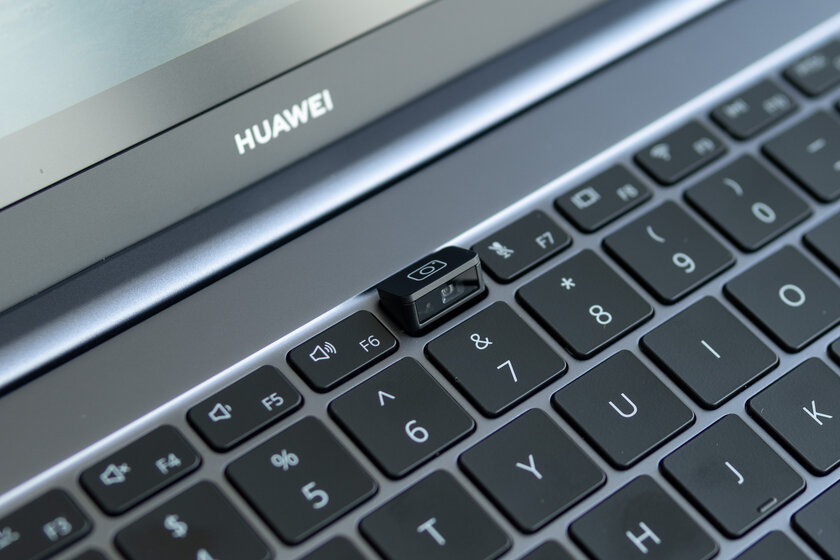 Spring-loaded mechanism works flawlessly
Multi-screen and file transfer from Huawei
As noted at the beginning, a good professional laptop is not only hardware, but also useful software. Huawei has an entire ecosystem that also includes smartphones and accessories. And the MateBook D 16, for example, can project applications from a smartphone onto its screen with full control. An indispensable option to be less distracted from work when you need to quickly do something on your smartphone. You can also quickly transfer files between devices, including by simple drag and drop. Pairing is set up by bringing the mobile device to the touchpad of the laptop, it has built-in NFC.
Synchronization works with Huawei and HONOR smartphones
Performance Core i5 or Core i7 under the hood
Inside is a modern 12th generation processor with integrated Iris XE graphics. The chip has an extended heat pack of up to 45 W, while most modern laptops are content with 15 W. But this value is almost proportional to the overall performance. RAM can be 8 GB or 16 GB, and the amount of SSD-drive is uncontested 512 GB. Such a set is already enough even for resource-intensive professional software, demanding both the processor and the graphics. Indeed, the MateBook D 16 has no problems either with complex engineering calculations, or with 3D modeling, or even with video editing, not to mention everyday work on the Internet.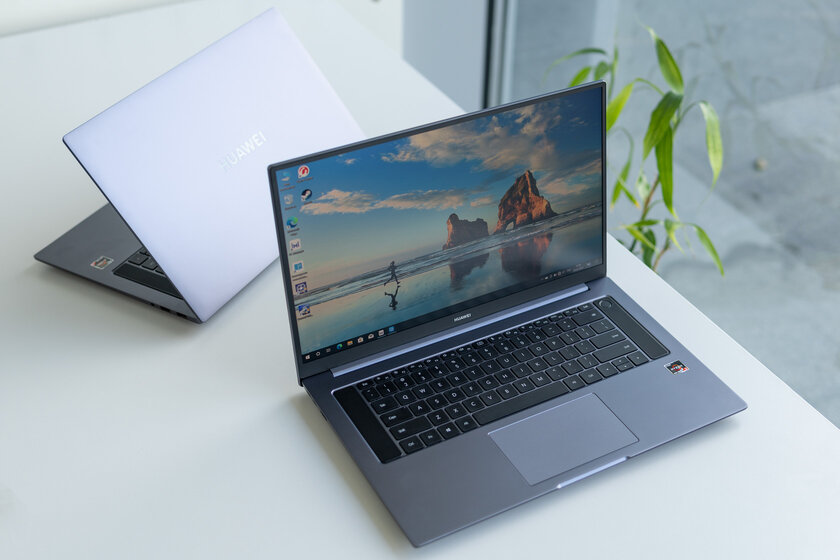 Don't forget the backlit keyboard, large touchpad and comfortable palm rests
When you need even more power and you can connect your laptop to a power outlet, you can activate the enhanced performance mode by pressing Ctrl + P. It reconfigures the cooling system and gives the processor full rein in the matter of power consumption. Fortunately, cooling such iron is not a problem for a pair of Shark Fin fans and advanced copper heat pipes that cope with the task without too much noise.
Wealth of interfaces and charging via USB-C
A professional laptop also needs peripherals, often and in large quantities. The MateBook D 16 has two full-sized USBs and a pair of USB-C for this case. You can output an image to an external monitor via full-size HDMI or via the built-in USB-C DisplayPort. The laptop also charges via USB-C. A convenient compact power supply is included, but you can take any third-party with Power Delivery support with you.
Source: Trash Box