Marketplace Yandex.Market, popular in Russia, has introduced a new function into the mobile application, which allows you to examine the goods of interest to a potential buyer in the conditions of your interior even before purchasing. To do this, which is quite expected, Yandex developers have introduced augmented reality function into the application, as well as three-dimensional models of the goods themselves – the user just needs to select a smartphone, Station or something else, and then evaluate how the device looks on a table, shelf or window sill. It is worth clarifying that 3D models are created based on the actual dimensions of objects, so that in addition to aesthetic pleasure, the buyer also receives practical benefits.
Image by Adindex
For example, you can see if a particular refrigerator model fits into the remaining space in the user's kitchen, assess how the color of the device fits into the overall interior design. However, at the moment, not all goods can be viewed in AR format – now the application contains 3D models of smartphones, game consoles, all Stations and other goods in this direction. You can determine whether a product supports an AR function by a yellow circle with a drawn cube – if this button is on the product card, then the new feature is supported.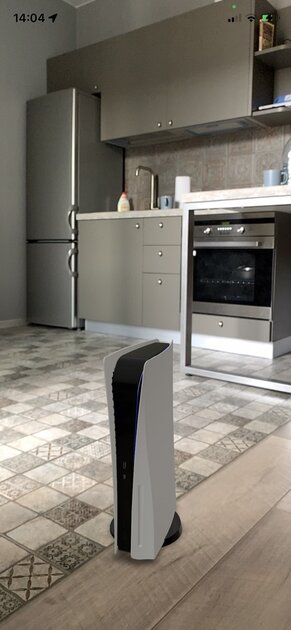 Sometimes the application incorrectly determines the size of the gadget in space; to fix the problem, the mode needs to be restarted
Yandex representatives said that when developing a new function for their mobile application, they used Object Capture technology from Apple – this development allows you to automatically create 3D models of objects from their photographs. Actually, for this reason, any seller can implement the function of demonstrating a product in augmented reality – for this, you just need to send ready-made models created through Object Capture to Yandex.Market, or simply send photos of the product from different sides, and the marketplace will create the model itself.
The demonstration function in augmented reality is already available in the Yandex.Market mobile application for iOS; in the near future, a similar feature will be launched on the Android application.