TV series have always been an important part of the film industry, but were not seen as competitors to films. However, the development of the Internet, streaming services and the pandemic have shifted priorities. The series are taking on a whole new level with high-budget production and priority screening. Thanks to the success of Netflix, every major company wants to have its own streaming service with a huge amount of exclusive content (Disney +, Apple TV +, Amazon Prime, KinoPoisk HD, and so on) to grow and retain subscribers. And if earlier everything was simple: one favorite series that the whole family watches is shown on TV in the evening, now it is almost impossible to keep track of the huge flow of new episodes. Unless you have any application from this list.
TV Time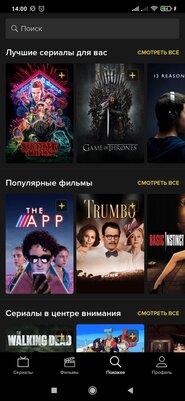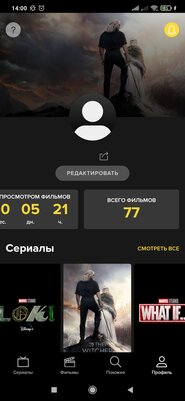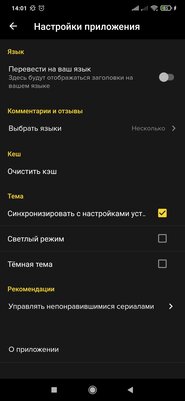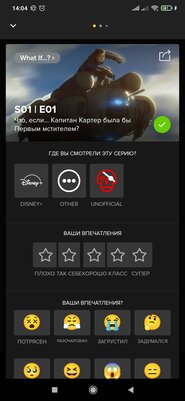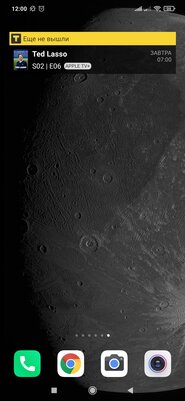 TV Time is one of the largest series tracker apps in the Play Market. According to the developers, more than 15 million people use it. When you start TV Time for the first time, it will ask you to indicate previously watched series and films, as well as, if possible, give them a rating. Based on this information, a Featured section will automatically be created with similar films. Further, the user can make a list of all previously watched series (from which various statistics will be formed), give them ratings (which will also affect the recommendations), discuss what he saw with other people, and also note new items of interest. TV Time will notify you of new episodes one day prior to their release. Moreover, the app even has a widget that will display the latest updates. You can search for serials manually, find in the lists of popular or recommended content.
MyShows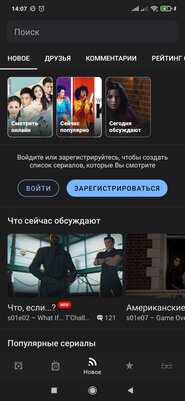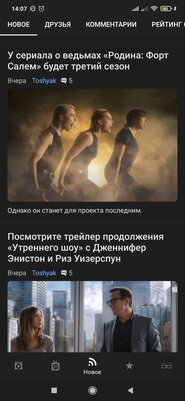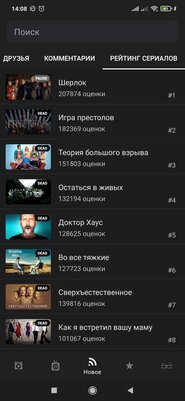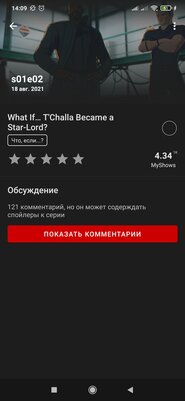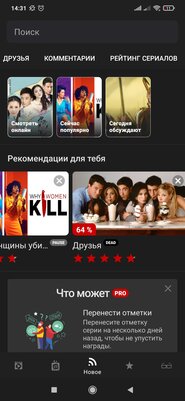 MyShows is the official mobile application of the myshows.me website. Therefore, to fully utilize all functions, you will need a platform account. You can also perform quick authorization via VKontakte, Facebook or Twitter. As in the case of TV Time, upon first launch, the application will ask the user to indicate the series they have already watched in order to compose the "Recommendations" section. There are also sections "Popular", "Discussed", there is a manual search, and so on. The most interesting section, which is practically not found in other trackers, is "News", where various rumors and notes about current and future TV series are published. The episodes can not only be rated, but also added to favorites so that you can watch your favorite episodes at any time. The only drawback of the app is the presence of ads. The problem is solved by switching to the PRO version (59 rubles per month). In addition, some other functions will become available to the user, for example, hide your profile, comment on unreleased episodes, and so on.
Series Guide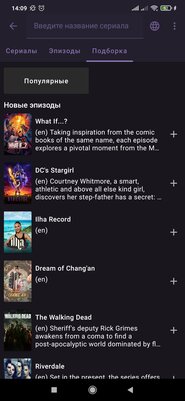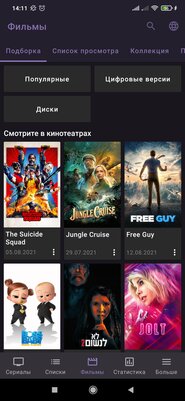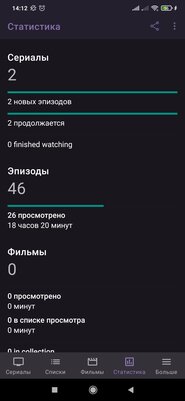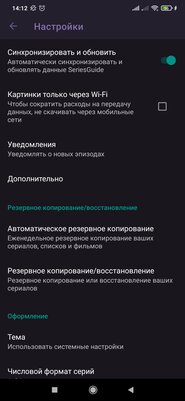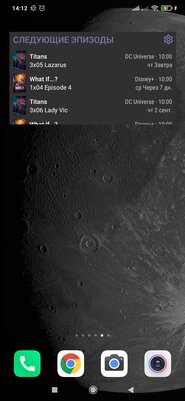 This application, when launched for the first time, will not bother the user with the need to remember what he has already watched. Therefore, you will have to fill the library yourself. The list contains upcoming projects, there is a section for popular TV series, as well as a manual search. In addition to the series, the Series Guide also has a section with films, which also includes popular digital and physical tapes. On the page with a series or film, its rating, short description, cast and crew, as well as the number of seasons and episodes are indicated. A feature of the application is the ability to synchronize data with the cloud or with the popular Trakt service. Therefore, all information and user statistics will be reliably saved even if the application is deleted or the device is lost. Series Guide also has a handy desktop widget.
Next Episode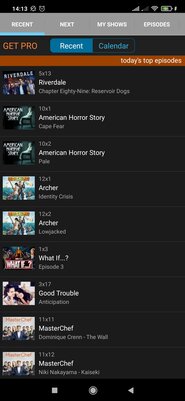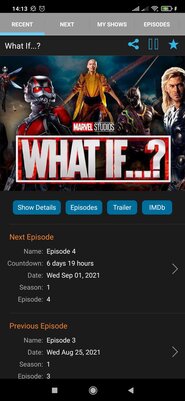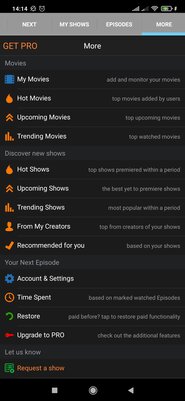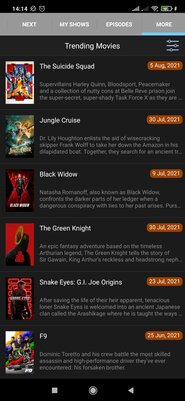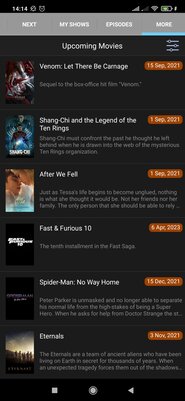 Next Episode is a very handy application for finding new films and TV series, as well as tracking new episodes. True, there are a lot of intrusive ads in it, which is solved by purchasing the PRO version (turning off the Internet is not an option, because it only works online), which will also open access to push notifications and a widget for the desktop. The application has a well-implemented search section. There are lists (Hot New Releases, Future Premieres, Popular, Featured) for both TV series and movies. They have additional filters (by genre, release period, and so on). On the page of the series itself, in addition to a description, a list of episodes and other things, there are also recommended similar shows. Therefore, Next Episode is perhaps one of the best apps for finding something new and interesting just for you.
hobby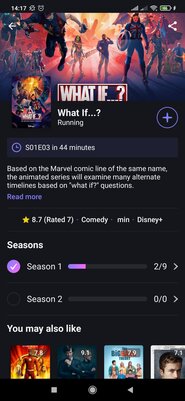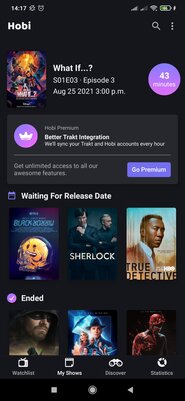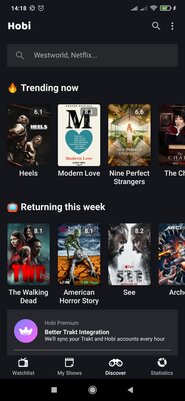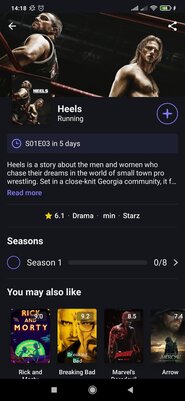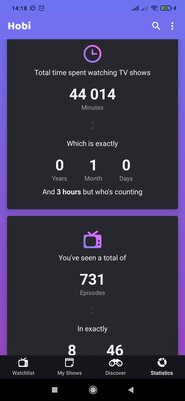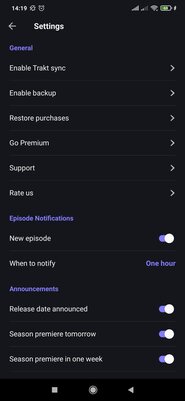 Hobi, like many other trackers, upon first launch will ask the user to indicate the series they have already watched in order to compose the "Recommendations" section. However, in this case, this process can be safely skipped, because the application is already sorted quite well. In addition to the standard sections (Popular, News of the Week), Hobi contains lists of TV series by channel and service (HBO, Netflix, The CW, and others), as well as genres. As you add and watch new episodes, the app will generate very detailed statistics, including your favorite show, preferred genres, watch time, and so on. Hobi has one of the most user-friendly and intuitive interfaces for finding and selecting the episodes you have watched for a particular series and where you left off. With a premium subscription, the user will be able to synchronize information between multiple devices and with the Trakt service, access to advanced statistics and customizable notifications.
"Kinorium"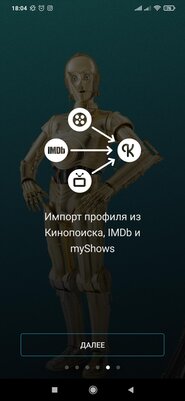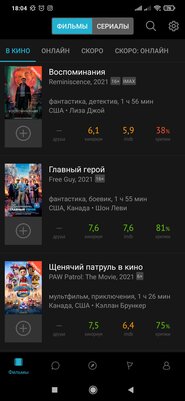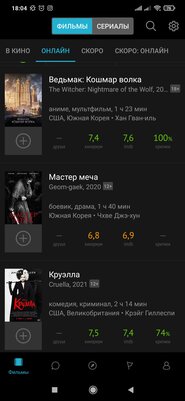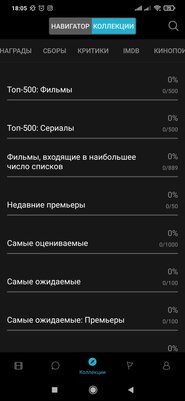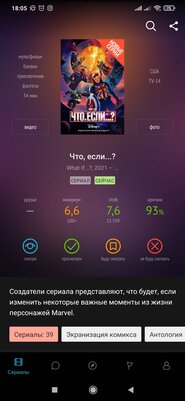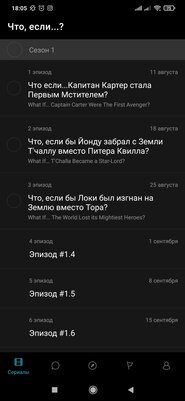 The new application from Russian developers is practically in no way inferior to Western counterparts. Moreover, "Kinorium" is even more than a tracker of new episodes, it is a whole portal with new film distribution, information about digital releases, with lists of the best films by gross, critics' opinions, ratings of various sites, and so on. In the application, you can find information about all films, TV series and actors, rate, add reviews and statuses, create your own lists of viewed and upcoming projects. Based on the user's actions, personal recommendations will be created. In addition, in this application you can make friends and exchange opinions and news with them (for which there is also a separate section). It is possible to import data from KinoPoisk, IMDb, MyShows and even Excel.
Summing up: what makes each of the trackers stand out
TV Time has an extensive user base and a good widget, Series Guide is suitable if the user wants to follow not only TV shows, but also movies, Next Episode implements the most convenient search for something new, Hobi contains lists of TV series by channel and service, and also advanced statistics, and "Kinorium" is a whole portal with the latest film distribution, information about digital releases, with lists of the best films by category, and so on.