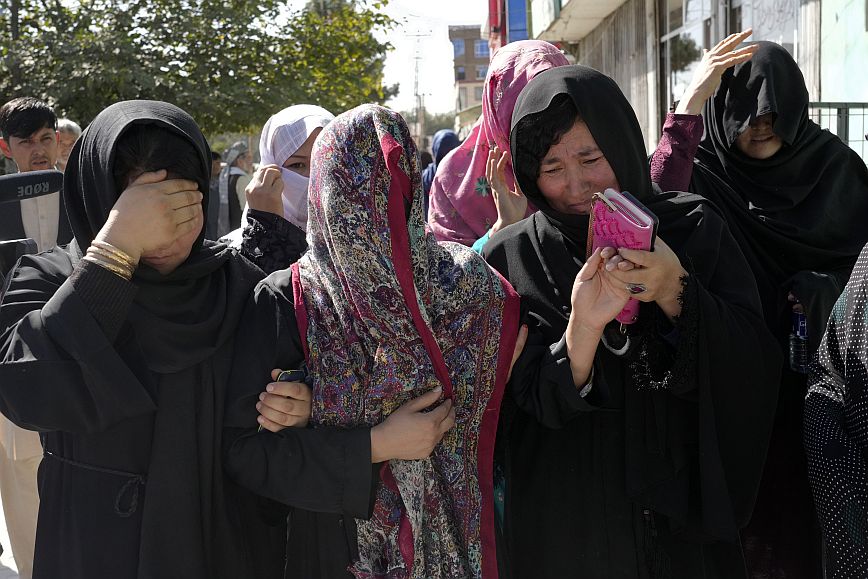 About 50 women from Afghanistan, belonging to the Hazara ethnic minority, demonstrated in Kabul, a day after suicide bombing attack on an educational center that killed at least 35 people, mostly girls.
A suicide bomber detonated the explosives he brought to this educational center located in the Dust-e-Barsi district of Kabul, while hundreds of students were preparing for an exam.
This center prepares students, aged 18 and over, for university entrance exams.
The Dast-e Barsi district is home to mainly members of the Hazara Shia minority, which has been the target of several bloody attacks in Afghanistan in recent years.
Today about 50 women were shouting "Stop Hazara Genocide, Being Shia Is Not A Crime" passing a hospital where many of the victims of the attack are being treated.
Dressed in hijabs and wearing black headscarves, the protesters held banners that read: "Stop killing Hazaras"under the gaze of several Taliban who had deployed to the site and who fired repeatedly into the air to break up the gathering.
Eyewitnesses said the suicide bomber detonated the explosives in the girls' section of the hall.
"Yesterday's attack targeted Hazaras and Hazara girls"said 19-year-old protester Farzana Ahmadi. "We demand that this genocide be stopped. We organized this demonstration to claim our rights"he added.
After the return of the Taliban to power in August 2021, education has become an extremely sensitive issue. The Islamists have not allowed secondary girls' schools to reopen. However, some girls are admitted to university, although their numbers are expected to decrease in the coming years, as they are no longer allowed to attend middle and high school.
Dast-e-Barsi has been the target of several attacks in recent years, several of which have been claimed by the Islamic State in Khorasan, the jihadist group's local offshoot, which considers the Hazaras heretics.
In May 2021, a series of explosions took place outside a girls' school in this district, killing 85 people, mostly high school students, and injuring more than 300.
IS, which claimed responsibility for another attack on an education center in October 2020, is believed to have also launched the May attack.
Smaller attacks, claimed by IS, occurred in Dast-e-Barsi in November and December 2021.
Source: News Beast