Its center-left former president enters as the undisputed favorite BrazilLuis Inacio Lula da Silva, today electionswith polls showing that he is not out of the question to win from the very first round.
According to the Datafolha institute, Lula will secure 50% of the vote (excluding invalids and whites) compared to 36% for far-right President Jair Bolsonaro. In order to be elected president in the first round, the winner must secure at least one vote above half of the valid votes (50%). In any other case, the match goes to a replay on October 30.
In the voting intention, Lula gets 48% to Bolsonaro's 34%, with a margin of statistical error of ±2%. The poll was conducted on a representative sample of 12,800 voters on Friday and Saturday.
In another poll on behalf of the IPEC institute, Lula secures 51% against Bolsonaro's 37% in the first round of the Brazilian presidential election.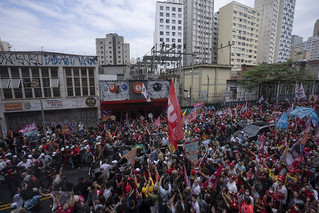 THE Lula da Silva he was cheered on Saturday by tens of thousands of his supporters, who had gathered in the center of Sao Paulo, braving the rain. The center-left Workers' Party (PT) has booked a venue on Sao Paulo's central Paulista Avenue for Sunday night to celebrate a possible re-election of its 77-year-old founder.
From his side, Jáich Bolsonaro calls the polls "misleading" and says he is confident he will secure his re-election to the presidency from the very first round. He has repeatedly challenged the electronic voting system, which he sees as vulnerable to attempted fraud.
The electoral authority (TSE) has invited a large number of international observers to the presidential elections, which are the most polarized in decades in Brazil.
Source: News Beast