If we discard narrow tasks, today it is quite possible to get by even with domestic software. What is the Russian "MyOffice" worth, which in many ways even surpasses the popular brainchild of Microsoft – at least it is distributed absolutely free of charge, offers a more intuitive interface and can be used on Linux. Interestingly, it can be installed without problems on most Russian operating systems. Almost all of them are based on Linux – there is plenty of other software for it that will cover the needs of most users. For some, they will completely replace the same Windows. The only question is which of the many domestic operating systems to pay attention to.
"Alt Linux"
→ first release in 2001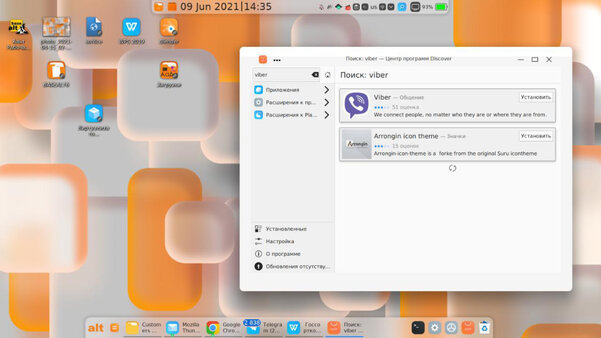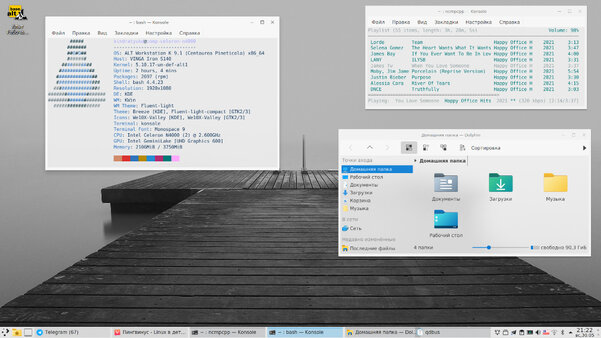 Different distributions of "Alt Linux" 9 and 10 versions (the last two) | "Penguinus"
A unified Linux distribution that is designed for both servers and user desktops. Its main feature is the built-in software for information protection (class 1B certification for automation and 1K for data), which are especially relevant in the corporate sector. Technical support for the operating system itself, as well as for users, is provided by partner enterprises Alt Linux SPT, Free Software and Technologies, and Basalt SPO.
Today, the operating system is presented in several versions: "Alt SP" for server use and workstations, purely user "Alt Workstation", purely server "Alt Server", as well as "Alt Education" for educational institutions and not only. It is this operating system that civil servants of the Stavropol Territory use – it is installed on computers in government organizations, as well as at agricultural facilities.
"Astra Linux"
→ first release in 2009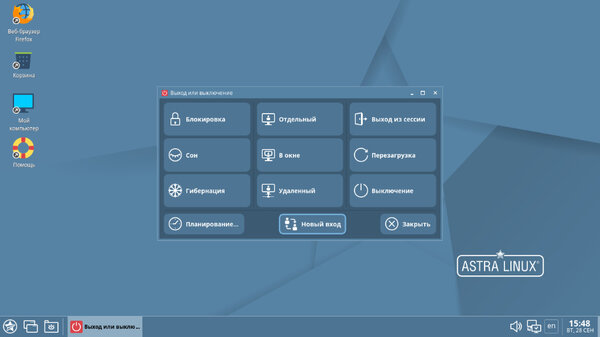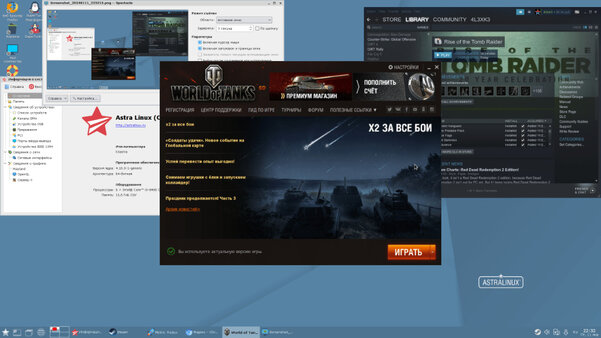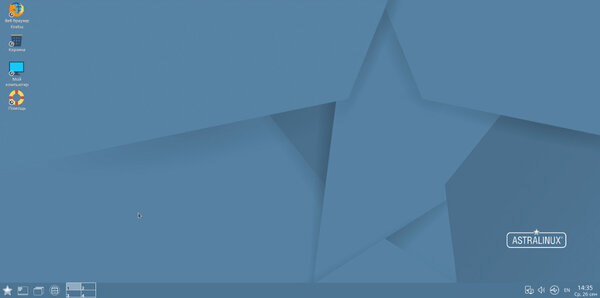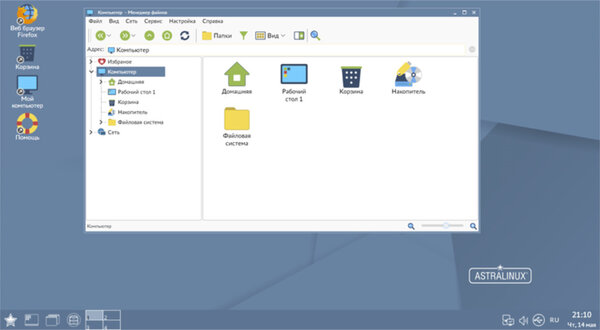 The nuances of using different aspects of the operating system | Linux Adictos
The operating system is presented in two versions: a general-purpose distribution kit Astra Linux Common Edition, as well as a special version of Astra Linux Special Edition with several levels of data protection. The domestic association "RusBITech" is engaged in the development, promotion, as well as their support. The main feature of the domestic operating system is the emphasis on the security of the data used. It implements a mechanism of special credentials that differentiate access for different software and users. There is also file integrity control. The developers emphasize that this is the only OS that is suitable for working with secret government files.
The operating system is included in the register of the Ministry of Digital Development of the Russian Federation, and, according to the creators, is certified by the FSB and the Ministry of Defense of the Russian Federation. One of the largest clients of the OS creators is Rosatom. Until today, it has already managed to provide more than thirty thousand of its employees in different parts of the country with workstations based on this operating system. Moreover, Astra is actively used in the administrative sector of the Russian Federation – this applies to the Krasnoyarsk Territory, Adygea, Yakutia and many other regions. Among the relatively new corporate users of the system are Sberbank branches.
▶︎ Fact: Astra Linux can also be used on smartphones and tablets. For mobile devices with a touch screen, a special assembly is provided in this case.
"RedOS"
→ first release in 2017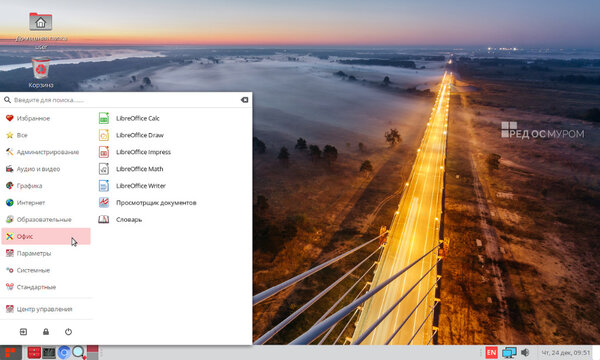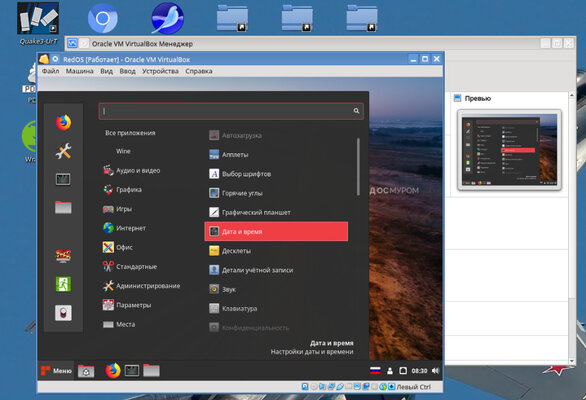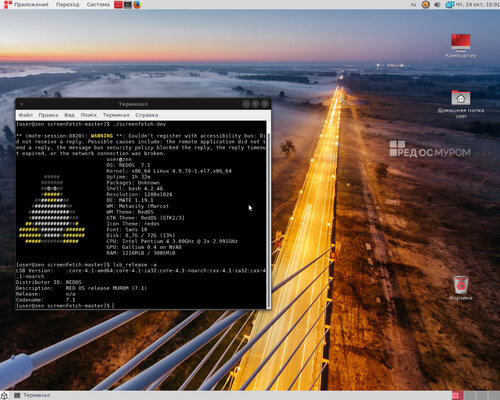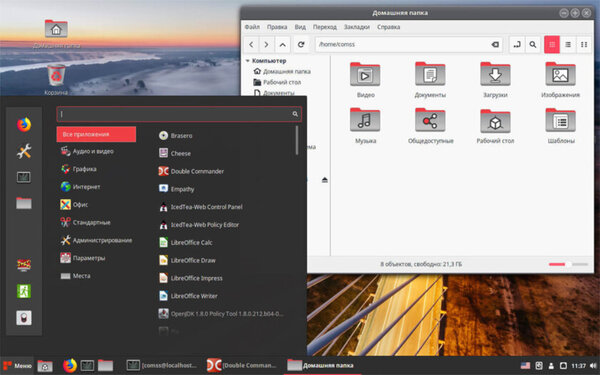 The operating system does not hide at all that it is based on Linux | "Penguinus"
Operating system based on Linux. Like the previous options in the selection, its main feature is also the protection of the information used. It has pre-configured configurations for hardware architectures that meet information security requirements. The OS uses algorithms in accordance with GOST 34.11-2012, it is equipped with all the necessary tools for a quick response of a system administrator to any emergency incidents.
RedOS is in the Unified Register of Russian Programs – it also has a certificate from the FSTEC of the Russian Federation. Since the system can be used both on servers and workstations, it is actively exploited within the framework of domestic regional government agencies. There are many examples: the administration of Stary Oskol, the Department of Development of the Voronezh Region, the Ministry of Labor of the Orenburg Region.
"DEW"
→ first release in 2010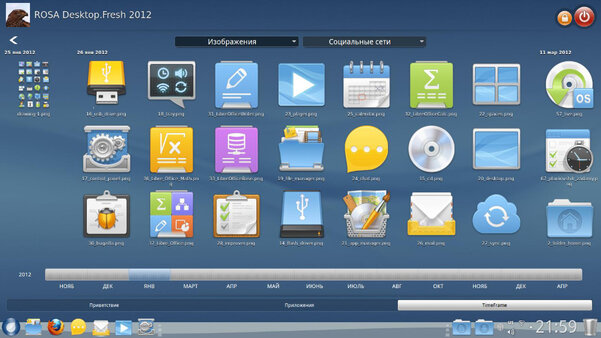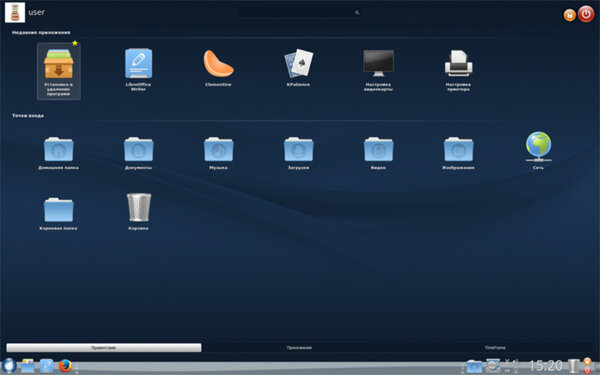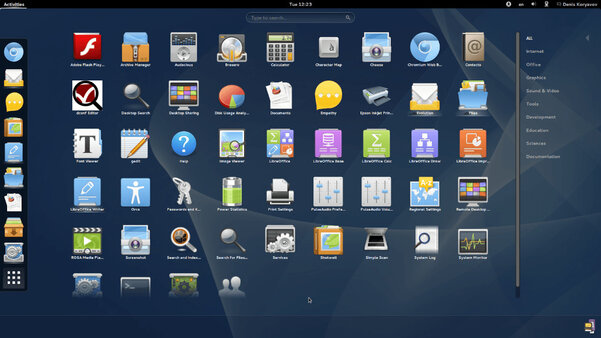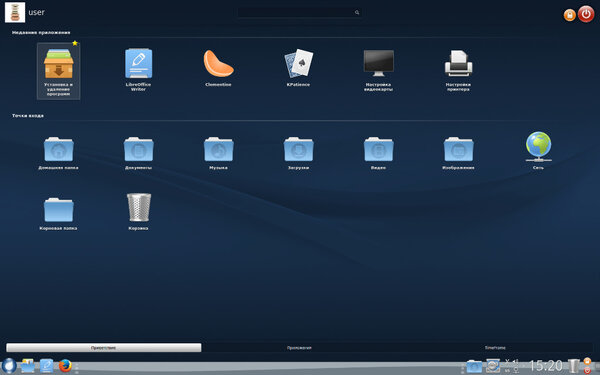 Operating system interface looks very friendly even for home use | Digital Russia
ROSA is not one operating system, but a whole family of solutions that are tailored for use both at home and in corporate realities. We are talking about ROSA Fresh, as well as ROSA Enterprise Desktop, respectively. There is also ROSA Enterprise Linux Server for IT professionals. There were also options for government agencies that can work with state secrets: Cobalt, Chrome, Nickel (they are based on Red Hat Enterprise Linux, CentOS and Mandriva). Among the unique developments of the system are tools for visualization, virtualization, as well as backup and cloud storage.
ROSA is certified by the Ministry of Defense, as well as by the FSTEC. The Cobalt option is considered the most prepared for a serious public sector. It is important to understand that only the regular user version is freely available for residents of the country. It is quite problematic to get specialized distribution kits for state needs into the hands of an ordinary consumer.
"Lotus"
→ first release in 2020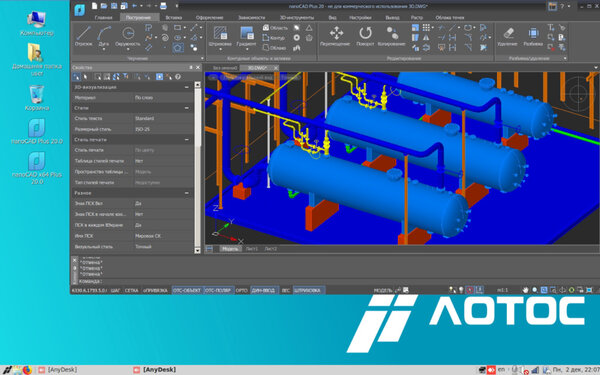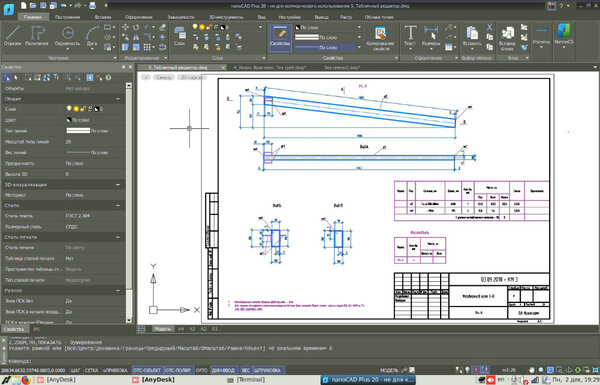 They are actively porting specific software for the corporate environment to Lotos | Digital Russia
A Linux distribution that is intended for corporate and government use only. The Lotos OS is interesting in that it is distributed along with a full set of software designed for full-fledged work. Actually, therefore, in the corporate sector, the implementation of the operating system is characterized by extremely low costs. By the way, the OS also has a special server version, as well as thin clients for the x64 and x32 architectures.
Today, Lotus can work without problems on a variety of architectures – it can be ported to Elbrus, as well as used on MIPSel and ARM. Until now, the operating system has also managed to obtain certification for implementation in the Register of domestic software.
"Ulyanovsk.BSD"
→ first release in 2004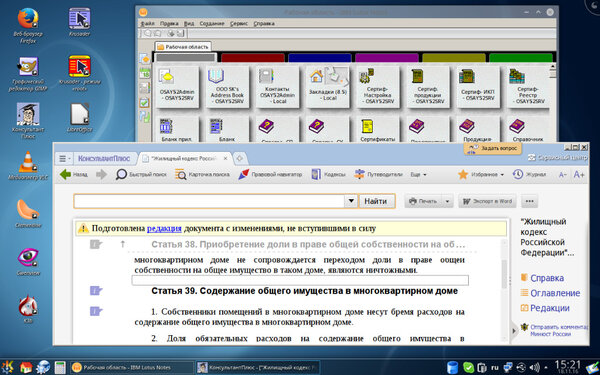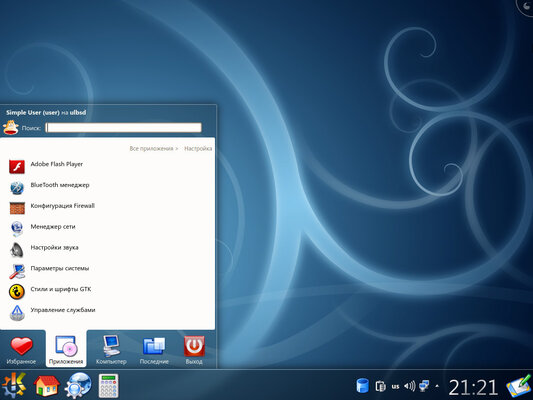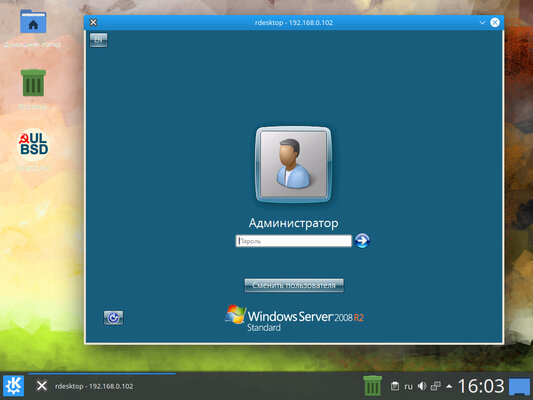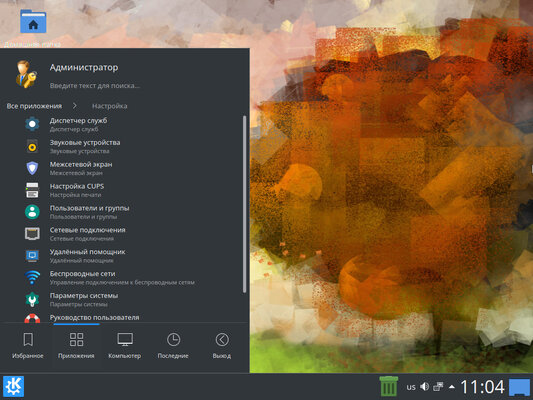 Different versions and modes of operation of the operating system | AllSoft
The operating system, which is actively developed and promoted by a single developer – Sergey Volkov. It is based on the free FreeBSD platform and includes a complete set of software for office and home use. The assembly is as light as possible to work quickly enough even on ancient hardware.
Interestingly, the operating system is distributed on a commercial basis. Today you will have to pay 1,250 rubles for a disk with it – for this money, the developer promises technical support and updates. However, for starters, you can try the "outdated" free version. It is interesting that the OS is included in the register of Russian software, so it can be quite legally used in government agencies, as well as in import substitution projects that are relevant today.
wtware
→ first release in 2003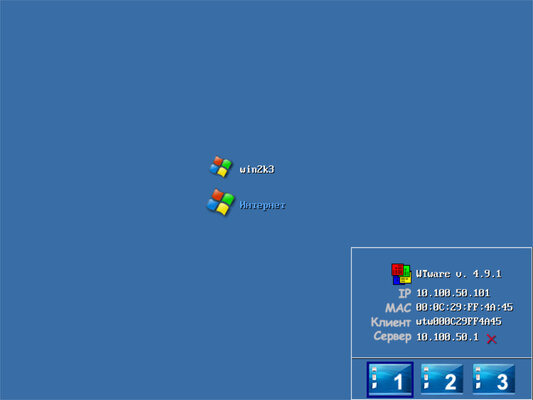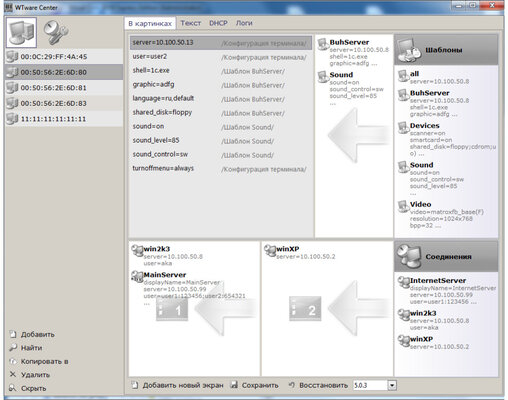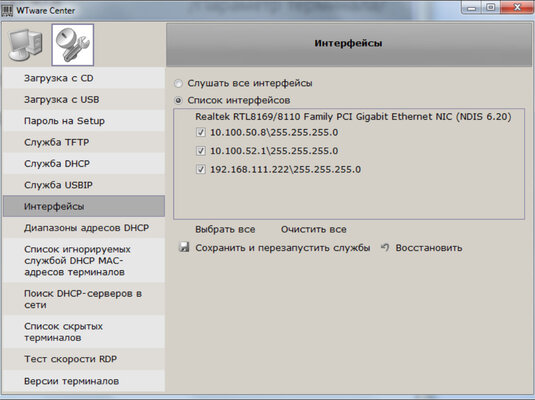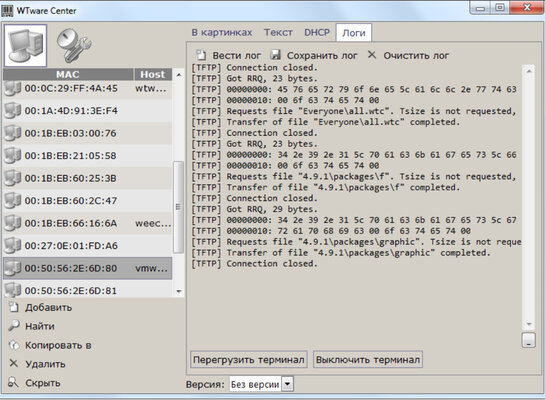 Configuration and other nuances of WTware
An operating system that is prepared for implementation in a corporate infrastructure based on Windows – on full-fledged workstations and budget terminal options. The operating system is equipped with all the protocols and services that are necessary for communicating over a local network, working with printers and barcode scanners, as well as almost any other peripheral equipment.
The operating system is distributed commercially. Its cost varies and depends on the number of jobs. However, developers offer a version for Raspberry Pi absolutely free. There is no interest in the platform for home use. But the system has detailed documentation for system administrators to resolve unexpected incidents in the corporate sector.
Kaspersky OS
→ first release in 2015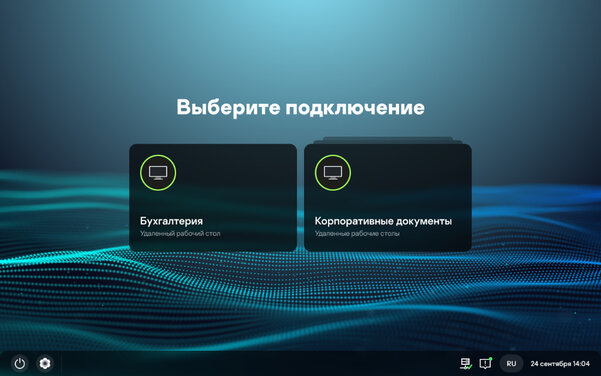 The operating system of Kaspersky Lab looks great even from the point of view of the interface
An operating system created by Kaspersky Lab. It is curious that individual elements of this platform can be used not only on PCs, but also on telecommunications equipment, in devices designed for medical purposes, in smart electronics, and so on. This is one of the few domestic operating systems created from scratch. In its architecture, they immediately relied on maximum security – everything that is not allowed is prohibited here.
Due to the obvious bet on increased security, KasperskyOS is used in the corporate sector. At first glance, the system seems too closed, but in fact, all the processes of interaction with it can be easily adjusted to the needs of a particular organization. However, the platform is more often used on some kind of equipment (smart home devices, transport), and not on a PC.
"Elbrus"
→ first release in 2019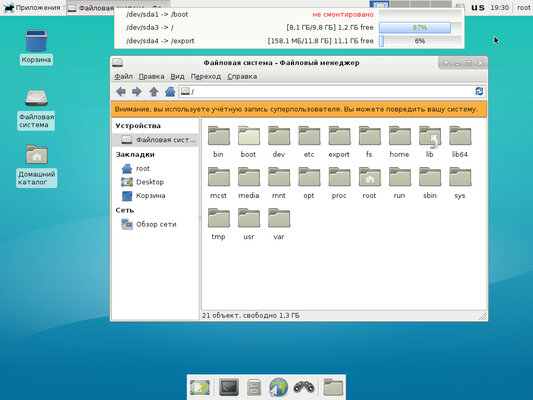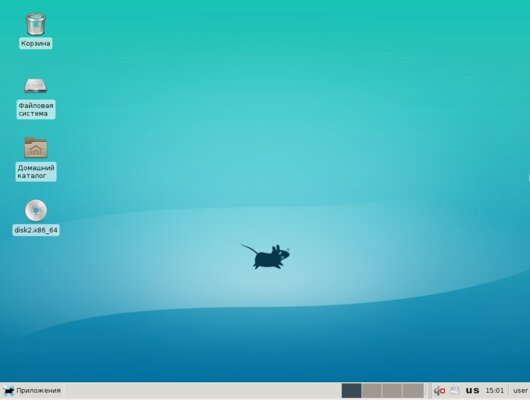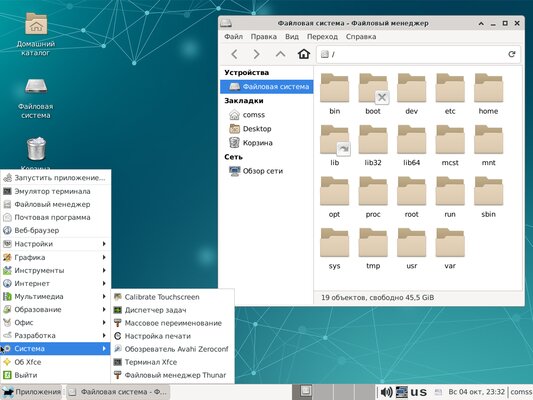 The set of software built into the system is quite primitive, but it's still Linux | Amin Blog, Comss
Platform designed for SPARC and Elbrus architectures. It is based on Linux, but the kernel of the operating system has been redesigned with the addition of mechanisms for managing virtual memory, synchronization, tagged computing. In real time, it will be possible to use external interrupt processing modes, schedule calculations and exchange data with external drives.
An important feature of the system is the built-in complex for protecting data from unauthorized access. Due to this, the platform is often used to create automated systems with the highest level of information security. Of course, at home this is unlikely to be needed. But for corporate purposes, as well as in the public sector, the system is actively used today.
"Axis"
→ first release in 2017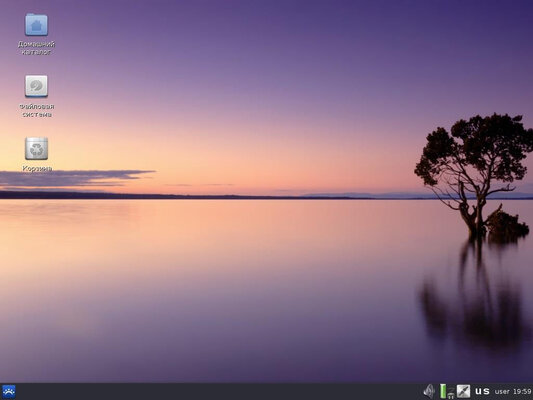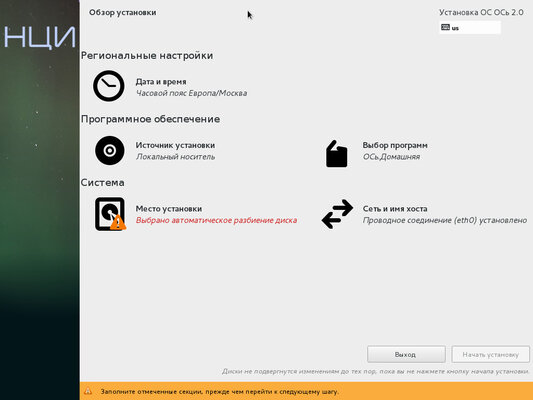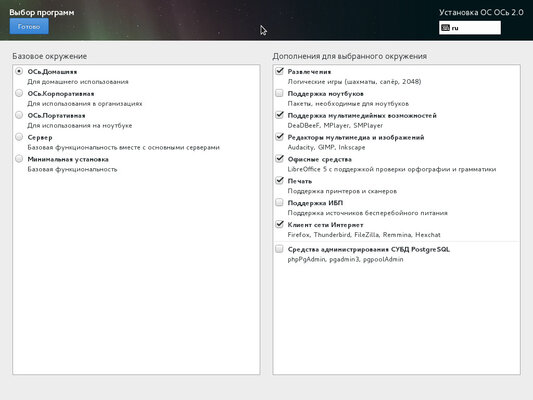 Custom software can be installed directly with the system | Medium
A promising domestic project, which is not one operating system, but a whole set of platforms tailored for different tasks. There are a couple of basic variants of the operating system: OS.Office and OS.Server. They differ in a set of pre-installed software. The first one is needed for a workstation in an enterprise and includes a lot of office applications, the second one is geared towards the safe use of data from the server.
At the moment, the operating system is not yet so widespread. However, it is assumed that it will be actively used by federal and regional authorities, government organizations at any level. It is AXIS that should become a full-fledged alternative to Western counterparts in all respects, which is why big stakes are being placed on it today. This is confirmed by the close cooperation of the developer, the "National Informatization Center" with the majority of the Ministry of the Russian Federation, as well as with other departments.
Source: Trash Box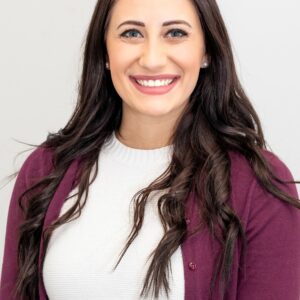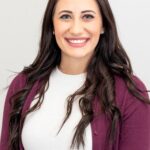 I work as a author at World Stock Market and have been with the company for over 2 years. I am also an expert in the stock market, having worked in it for over 7 years. My current focus is on financial analysis and providing advice to readers.