Published: 26.04.2022

Article reading time:
2 minutes.
Analyst firm CoinShares reported that investors have withdrawn less money from cryptocurrencies over the past week, while institutional investors continue to invest in altcoins.
The authors of the report claim that the outflow of capital from the cryptocurrency market has decreased and reached $7.2 million. In total, over a three-week period, investors withdrew $219 million. Despite the recent weakening of sentiment, the outflow of funds since the beginning of the year remains positive at $389 million. a slight inflow of funds totaling $2.6 million, although the outflow since the beginning of the month remains at $178 million.
Large investors continue to invest in altcoins. However, CoinShares analysts note that not everything is as smooth as it seems at first glance in the altcoin market. For the third week in a row, investors withdraw funds from Ethereum – the outflow amounted to $16.9 million. In total, the outflow from ETH amounted to $169 million since the beginning of 2022. At the same time, relatively new projects, such as Avalanche, Solana, Terra and Algor, are seeing a significant inflow of funds – $1.8 million , $0.8 million, $0.7 million and $0.2 million, respectively.
Bitcoin investment products posted a modest $0.4 million inflow last week. The report's authors claim that the total number of investment product launches has dropped to 11 in Q1 2022 from 24 in Q4 2021. Of the 23 different investment products based on different cryptocurrencies, 10 were launched in 2022.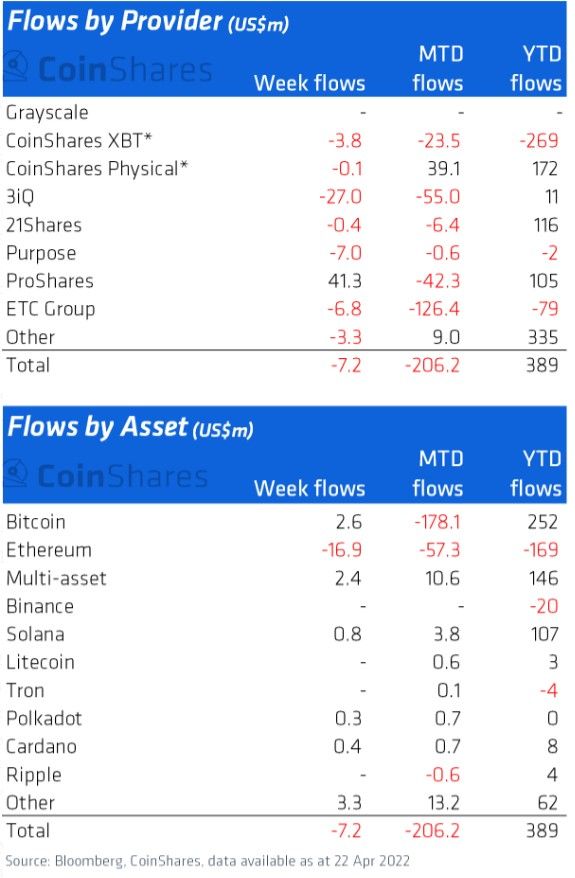 The main focus was on altcoins, in particular Avalanche, Tezos and Terra with assets under management of $49 million, $30 million and $16 million respectively. Despite the threat of a global rise in interest rates and a strong negative impact on the prices of technology companies last week, stocks of companies specializing in the blockchain market showed a modest capital inflow of $3 million.
Recently, the analytics company Glassnode reported that recently the influx of bitcoin to exchanges has been less than the volume of BTC leaving trading platforms.
Source: Bits
I am Derek Black, an author of World Stock Market. I have a degree in creative writing and journalism from the University of Central Florida. I have a passion for writing and informing the public. I strive to be accurate and fair in my reporting, and to provide a voice for those who may not otherwise be heard.