Coronavirus vaccine – France: Recommendation for Pfizer and not Moderna to be given to children under 30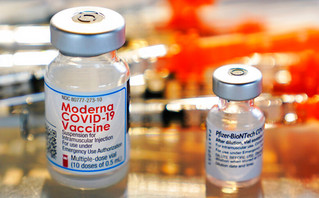 Be vaccinated with coronavirus vaccine Pfizer instead of Moderna, when possible, recommended the French public health service to those under 30 as the latter emphasizes a relatively higher risk of heart problems.
The Higher Health Authority (HAS), which provides health advice but does not have the authority to ban or authorize medicines and preparations, cited a "very rare" risk of developing myocarditis, based on recent data on the Moderna vaccine and a French study published yesterday Monday (8/11).
«In the population under the age of 30, this risk appears to be approximately five times lower with Pfizer's Comrinaty vaccine than with Moderna's Spikevax. ", HAS said in its recommendation published yesterday as broadcast by the Athenian News Agency.
Authorities in other countries – including Canada, Finland and Sweden – have taken a more defensive stance against Spikevax amid concerns about young people having heart problems.
EMA approves Moderna vaccine to be given as a repeat dose to all adults over 18 years of age
The European Medicines Agency (EMA) approved the Moderna vaccine last month to be given as a repeat dose to all adults over 18 years of age, at least six months after the second dose.
EMA had earlier this year identified a possible link between myocarditis, a very rare inflammatory disease, and the Pfizer and Moderna covid-19 vaccines.
However, EMA had stressed that the benefits of these two vaccines outweigh the risks, echoing the views of US regulators and the World Health Organization.
For adults over the age of 30, HAS clearly recommends that they be immunized with the Moderna vaccine, noting that its effectiveness is somewhat higher.