The Fuel is depleted in 50% to 90% of petrol and diesel pumps at gas stations in some areas, announced today the Petroleum Retail Association (PRA), which represents the majority of petrol stations in the UK.
The problem started on Friday at noon after the announcement of a well-known hydrocarbon company that "it temporarily closes a small number of its gas stations as it could not supply them". This is because there are not "enough tanker drivers to transport fuel to all its service stations", as he noted. The announcement panicked the people, who hurried to fill the tanks of their vehicles, with the result that from the first moment, but also during the weekend, huge queues of vehicles were created outside the gas stations.
The criticality of the situation is that Transport Minister Grand Saps, in an interview with the BBC yesterday, left open the possibility that even army drivers could be used to meet the immediate needs of petrol stations – although, as he stressed, "not there is a shortage of fuel in the country ", meaning of course in the warehouses, while he attributed the problems that have been created" to the panic that was caused ". That is why he called on the British "be more reasonable and fill their cars only when needed».
Britain: Easy visas for drivers
At the same time, the Johnson administration is preparing make visa regulations for foreign truck drivers easier, aiming to directly attract 5,000 professionals. In addition, it is even oriented towards the mobilization of the examination system of the Ministry of Defense in order to accelerate the pace of conducting the examinations of truck drivers.
The problem that has arisen with the lack of tanker drivers, but also other large vehicles, is due to two factors. First of all in Brexit, as thousands of drivers were forced to leave the country, and secondly in the pandemic, as on the one hand the examinations for driving licenses on new drivers were stopped and on the other many of them left Britain for fear that will be excluded.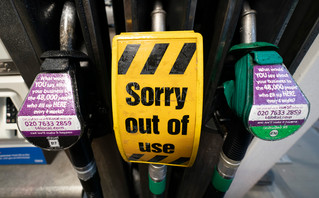 Many petrol stations, which still have liquid fuel, have a ceiling of 30 30 to ώστε 50 so that as many customers as possible can be served.
However, to resolve the issue, 100,000 professional drivers of large vehicles are needed. That is why many fear that supply problems will soon become more apparent, "especially as we approach the Christmas holidays, when demand is even greater," they say.
Labor leader Sir Kir Starmer accused the government of "complete lack of planning" as it was known that "when we left the EU, there would be a need for a back-up plan to deal with the situation."