There is no end to the episodes on prisons of Ecuador. Dozens prisoners have lost his life after the prison uprisings. The bloody ones conflicts pcontinued yesterday Tuesday in one of Ecuador's largest prisons, the day after the confrontation of prisoners with an official report at least 16 dead, including an alleged drug lord, and dozens injured. The previous the official count was 15 dead. The 16th death was the injured one who succumbed, according to the penitentiary service (SNAI).
From February 2021, at prison system of Ecuador eight massacres have been committed in incidents between inmates. In total, the dead have exceeded 400. "New clashes" broke out at the prison in the district of Latacunga city, some hundred kilometers southeast of the capital Quito, SNAI reported earlier. Eleven more prisoners were injured yesterday morning, announced the governor of the province of Cotopaxi, Osvaldo Coronel.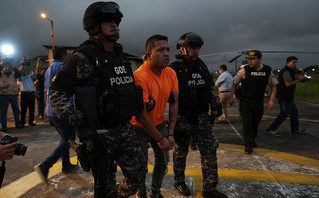 According to the news site GK, which systematically monitors violent incidents on prisons, the "Boss" was murdered "on the same day" he was to be charged with drug trafficking. He had a "heavy criminal record" and was "the leader of (gang) Los Ñetas, then he founded (gang) Los Chone Killers under the alias Trombudo," GK explained. Gangs such as Los Chone Killers, Los Choneros, Los Lobos and Los Tiguerones often manage her drug trafficking inside prisons and clash within and outside their walls for market dominance.
The authorities seem unable to stop them violent episodes in the prison system, permanently marked by beheadings and other atrocities. The surplus population prisoners in Ecuador it had reached 30% over the nominal capacity of the prisons, but decreased (to 11.3%) after presidential favors and the application of the rule of offering licenses to those exhibit good behavior.
The Ecuador of almost 18 million inhabitants, between the Colombia and Peru, the two countries where the largest quantities of cocaine are produced in the world, has turned in recent years into a hub for the trafficking of the white powder to Europe and the USA and a field of merciless gang conflicts. In 2021, authorities announced that 210 tons of drugs, mostly cocaine, were seized, a record amount. In the same year, the homicide rate reached 14 per 100,000 inhabitants, in other words almost doubled compared to 2020.
Source: News Beast