The Purpose Bitcoin ETF has faced declining institutional capital inflows, and the Grayscale Bitcoin Trust (GBTC) continues to trade at a significant discount.
Purpose Bitcoin ETF, one of the first Bitcoin exchange-traded products approved by Canadian regulators, saw a slowdown in net capital inflows this week after a period of relatively strong demand in May and June, according to a Glassnode report.
"The week ended with the largest net capital outflow of 90.76 BTC since mid-May," the report said.
Source: Glassnode
According to analysts, the slowdown in investment growth suggests that institutional demand for bitcoin remains weak for regulated exchange-traded products. Bitcoin dropped below $ 30,000 yesterday and was trading at $ 27,900. Today, the first cryptocurrency is trading at $ 30,825.
Exchange traded products for bitcoin in Europe have also become less popular.
"This is just a $ 3 million churn in a week," said Laurent Kssis, managing director of ETP at 21Shares AG, on the Purpose Bitcoin ETF. "In Europe, some bitcoin ETPs have seen larger churns in one day."
In addition, GBTC shares were still trading at a significant discount to the fund's net asset value last week, ranging from 11% to 15.3%. According to analysts at Glassnode, this indicates weak demand for the cryptocurrency.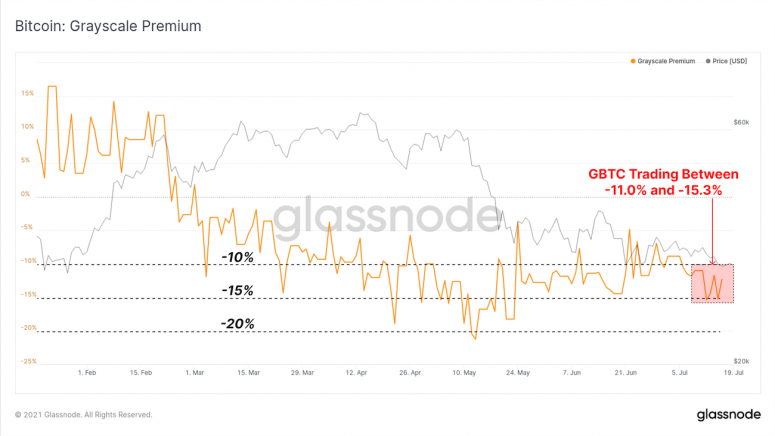 The outflow of institutional investment from BTC-based products continues to grow, according to CoinShares. This money goes to cryptocurrency funds for altcoins, primarily ETH.