Some time ago, Intel officially announced its own image scaling technology in video games called XeSS (Xe Super Sampling). The developers of this technology said that they were able to significantly increase the frame rate in various video games without a noticeable loss in the quality of the final image, which, of course, very pleased the audience of gamers in anticipation of the launch of discrete blue team graphics. And yesterday, September 27, Intel officially released the technology to the public – it is already working in Shadow of the Tomb Raider, plus the source code of the project (not all, but only the SDK for integration into video games) was published on GitHub, so it will be easier for video game developers integrate the technology into your releases.
Intel XeSS technology works in exactly the same way as its competitors in the face of AMD FSR and NVIDIA DLSS – the GPU composes frames in a video game at a lower resolution, and then, using artificial intelligence, it upscales the picture to the required resolution without losing quality. As a result, the user gets an increase in frame rate, although the graphics are not inferior to native resolution without the use of Intel XeSS. In addition, the uniqueness of the Intel solution is that information from previous frames is used to form the current frame in order to obtain the final image with maximum resolution and quality.
At the same time, Intel XeSS technology, surprisingly, works not only on Intel video cards – the developers of the function during the official presentation stated that their image upscaling technology will also work on video cards of competing companies. Moreover, according to the tests of enthusiasts who tested the technology on the Radeon RX 6800 XT video card, the frame rate increase in Shadow of the Tomb Raider in Performance mode was 60%, which is certainly very worthy. Moreover, company representatives said that XeSS also works on NVIDIA video cards.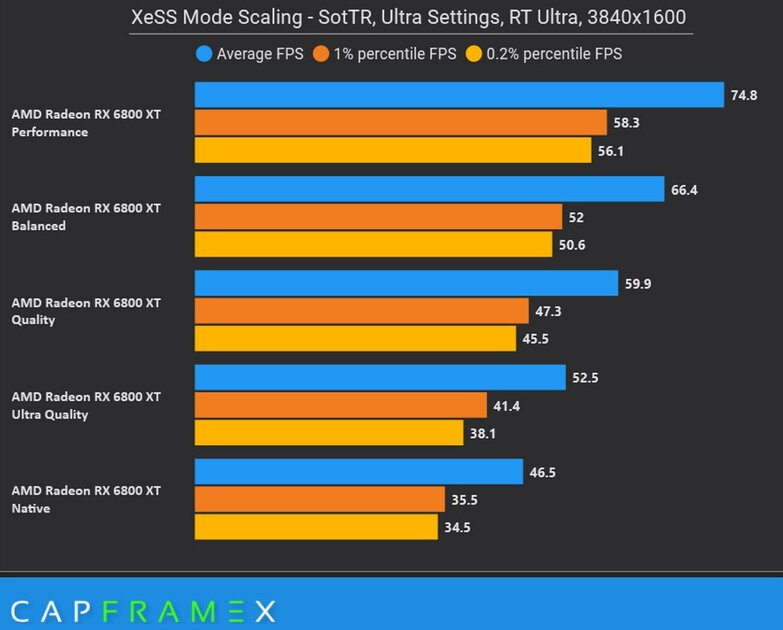 Surprisingly, Intel released its XeSS image scaling technology even before the blue team's flagship video cards went on sale – the Arc A770 will hit the shelves only on October 12, and the technology is available in video games today. In addition, I would like to note that the SDK for developers on GitHub is called XeSS 1.0 – this probably means that the company plans to release new versions of the technology in the future, as NVIDIA does with DLSS and AMD with FSR.
Source: Trash Box