A few days ago, singer Justin Bieber announced that he would stop his tour Justice World Tour. However, he did not give any details, until now. Finally, the singer revealed the reason that led him to put a very urgent pause on his tour.
Through a video he shared on his Instagram account, Bieber revealed that he suffers from Ramsay Hunt syndrome. In addition, he asked his followers to keep him in his prayers, as his health is being severely affected.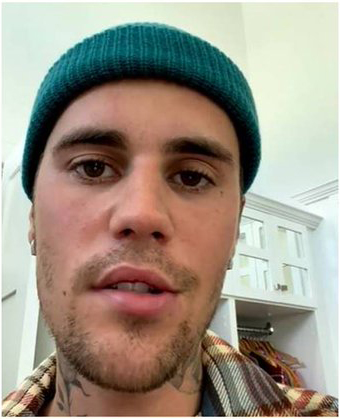 According to the medical portal Medline Plus, Ramsay Hunt syndrome is a rash that causes pain around the ear, face or mouth and occurs when the varicella-zoster virus infects a nerve in the head. Specialists also mention that the virus affects the facial nerve that is close to the inner ear, which leads to irritation and swelling.
In the 2:54-minute video, Bieber is seen staring at the camera. However, half of his eye does not generate any kind of movement or expression. The singer explained that the disease has caused various effects on the nerves of his face and ear, which caused facial paralysis.
"Important, please watch. I love you and please keep me in your prayers."

— @Justin Bieber via Instagram.

🗣 | This is how Justin Bieber reveals the reason why he has postponed / canceled his next shows. Let's hope he recovers soon! pic.twitter.com/naeUPobSxl

— Music Festivals Mexico (@musicfestmx) June 10, 2022
As you can see, this eye doesn't blink, I can't smile with half of my face, and this side of my nose doesn't move.
Bieber also asked all those "frustrated by his cancellations" to understand the situation because it is quite serious and he is not in a position to continue, for the moment, with the tour.
I hope you guys understand. I will use this time to rest and relax so I can get back to 100 to do what I was born to do.

Source: Okchicas