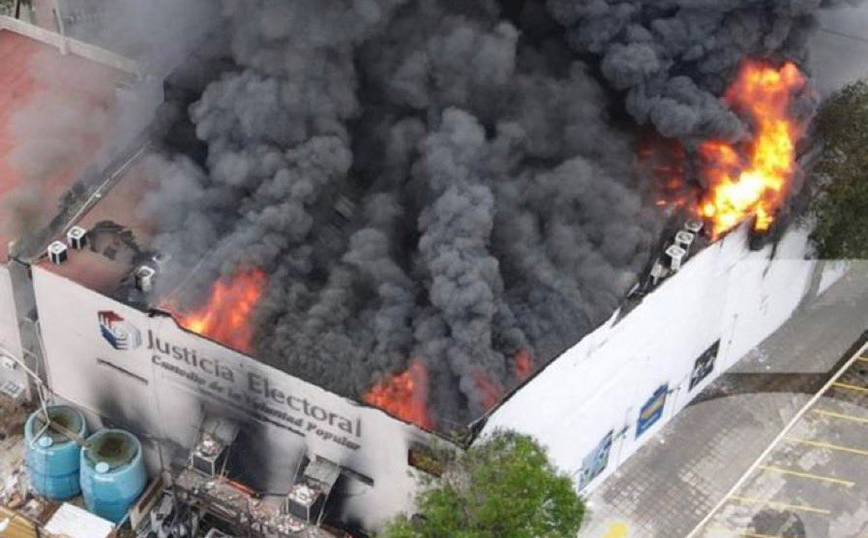 A large fire broke out yesterday (29/9) at the headquarters of its national electoral authority Paraguay, as a result of which at least one worker lost his life. 80,000 electronic ballots were destroyed, as well as a large amount of material, with the result that the orderly conduct of the internal party procedures for the nomination of presidential candidates on December 18 and the elections themselves on April 30, 2023 are called into question.
A huge column of thick gray smoke and flames rose from the headquarters of the Supreme Electoral Court -Tribunal Superior de Justicia Electoral, TSJE- in the capital Asuncion. In the building, where hundreds of people work, electoral material is stored, including thousands of electronic polls and subscriber lists.
"We have suffered a lot of damage. We can't confirm anything at all about the cause of the fire," TSJE official Jorge Bogarin told a radio station.
Firefighter Hermes Villa confirmed that a body has been found, while another person is being sought. the fire was brought under control after 6 hours, with 300 firefighters fighting to extinguish it.
According to Mr. Bogarin the disaster may alter the election schedule. He added that special teams will be formed to investigate the causes of the fire and to provide guarantees for the smooth conduct of the electoral procedures.
TSJE president Jaime Vestard stated during a press conference that they were destroyed "8,500 electoral machines, envelopes, electoral material", however "we guarantee the citizens that the December (internal party) elections will take place as planned". However, he estimated that these procedures may need to be done in two phases.
Immediately, an opposition faction leader raised an objection. "Breaking the election (into two phases) is part of a plan to commit fraud," claimed Efren Alegre, president of the Liberal Party. "The law stipulates that the internal party procedures are carried out at the same time in order to exclude double votes", that is, some interfering in the votes of parties to which they do not belong, he added
A leader of the same faction, Guillermo Ferreiro, claimed that the fire at the TSJE was due to arson: "I have no doubt, it was sabotage."
A representative of the Supreme Electoral Court, Luis Alberto Mauro, did not rule out, but did not confirm this theory. "We have no evidence as to whether it was arson. We will need a little more time in order to investigate the causes" of the disaster, he explained.

Source: News Beast