The US is expected to carry a Russian cosmonaut on Wednesday (5/10) to International Space Station (ISS) with a rocket from the company SpaceX, a mission that acquires a very symbolic character while the war in Ukraine.
Anna Kikina, Russia's only female cosmonaut on active duty, is part of Crew-5, which also consists of two Americans and one Japanese. This is the fifth mission to the International Space Station carried out by SpaceX on behalf of NASA.
Liftoff is scheduled for noon today from the Kennedy Space Center in Florida, where weather conditions are expected to be good.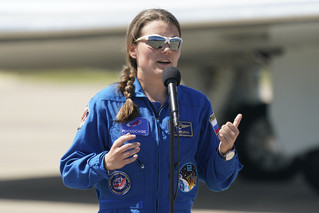 Anna Kikina, 38, an engineer, will become the fifth Russian professional cosmonaut to go into space. "I hope that in the near future we will have more women in the cosmonaut corps," he told AFP in August, as reported by the Athens News Agency.
It will also be the first space flight for American astronaut Nicole Mann and her fellow American Josh Kasada, but the fifth for Japan's Koichi Wakata.
After a journey of about 30 hours, their craft will dock at the Station, which is located at an altitude of about 400 kilometers.
The members of Crew-5 will join their seven colleagues already on the station (two Russians, four Americans and one Italian).
Source: News Beast