The world's first "smart car with lidar" proved to be very popular. More than 5000 orders were placed on Xpeng P5 in 7 hours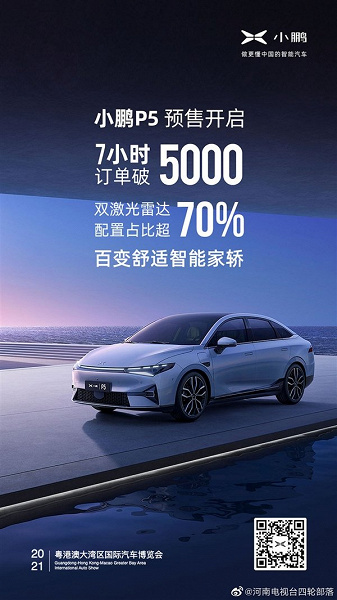 Xpeng Motors announced the Xpeng P5 electric car in the spring during the Shanghai Auto Show, at the same time it started accepting orders for the new product, but within the framework of the exhibition. Now, full-fledged preliminary sales of the car have begun in China. And they say the Xpeng P5 will be as popular at home as the Xpeng P7 flagship sedan.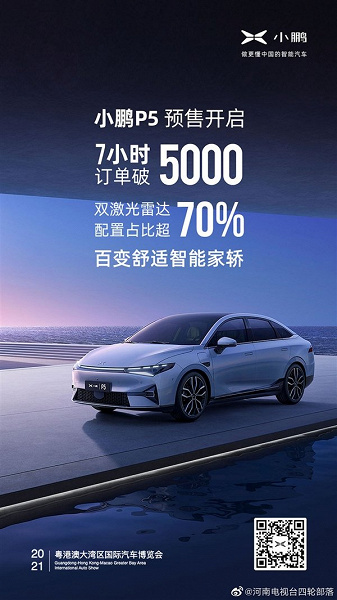 In just seven hours, over 5,000 orders were placed for an electric car. If the price of the Xpeng P5 was not known at the exhibition, now it has been revealed: the basic version is offered for $ 24,775, and the top-end version costs $ 35,600. The manufacturer calls the Xpeng P5 the world's first "smart car with lidar" – the top version with the XPILOT 3.5 autonomous driving system has two lidars, five millimeter-wave radars, 12 ultrasonic sensors and 13 high-resolution cameras.
The Xpeng P5 is equipped with a 211 hp power plant. The traction battery has three capacity options: 55.9, 66.2 and 71.4 kWh. The range, measured by the NEDC method, is 460, 550 and 600 km, respectively. Shipping of the commodity Xpeng P5 should begin in late October.