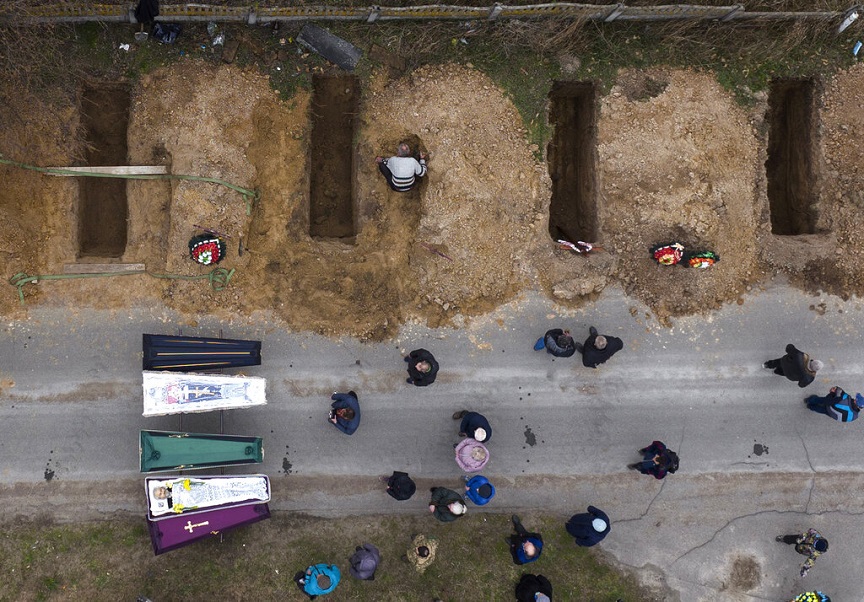 The diplomacy of USA announced yesterday Tuesday (17/5) the creation "War Observatory" in Ukrainewhich will in principle have $ 6 million at its disposal for the purpose of "gathering, analyzing and widely disseminating evidence of war crimes" for which Washington accuses Russia in the conflict.
The new initiative aims to "archive information" from public, open img and satellite data, in compliance with "international rules", so that any process to hold those responsible for "atrocities" accountable can be provided with evidence, the report said. State Department in a press release.
"An online platform will share War Observatory documentation with the public to help counter Russia's misinformation efforts," he said.
The United States has formally accused Russia of committing war crimes in Ukraine with civilian casualties and has vowed to hold perpetrators and perpetrators accountable..
US President Joe Biden has personally called his Russian counterpart Vladimir Putin a "war criminal" and a "butcher" and, far removed from his own government, has said that Moscow is committing "genocide" in Ukraine.
Efforts to gather evidence continue in Kyiv
The titanic fight between medical examiners and investigators at the Kiev Special Forensic Laboratory to help prove war crimes by Russian forces, the ERT.
In Kyiv, the forensic service of Ukraine with forensic laboratories have engaged in a multi-level struggle. Identification of corpses by DNA method.
The supervisor of the Kiev Biological Identification Laboratory, Victoria Kasyuchenko he points out that "Our laboratory specializes in genetic analysis and corpse identification. All our forces are concentrated in this purpose because there is this situation in our country. Our main mission is to find the DNA of the dead people so that we can identify them. In order for the relatives to find them and bury them humanely ".
Through a special process, the Profile of the person is created, from the DNA of the body, age, sex, as many data as possible and then compared to either the DNA of relatives or the one that exists in the files of the service.
It is not uncommon, however, that, from the eastern front, the only thing that comes back are a few members of the human body. Investigators and medical examiners are called upon to re-identify these members as belonging to someone who is missing. Exclusively at this time all the findings have to do with war victims.
Ukrainian medical examiners and researchers work with their certified colleagues from Europe and have set out to scientifically and with unshakable evidence to expose war crimes which took place during the invasion of cities and villages of Ukrainian land by Russian forces.
"Our investigations are accurate and fair, we can say. And they are taken seriously as evidence. "So, given the circumstances, we are happy when we take part in the investigations and find a solution to various situations," said Nikolai Maliardzuk, director of the Center for Research and Experts of the Ministry of Internal Affairs of Ukraine.
Experts in the investigation of criminal cases are fighting to find conclusions that will be included in the report on war crimes committed on Ukrainian soil.
Source: News Beast