JBL's arsenal includes new Tour Pro 2 premium wireless headphones with support for active noise cancellation, Bluetooth 5.3 LE Audio and autonomy of up to 10 hours without recharging in a case. It would seem that nothing outstanding, but they have one feature – a "smart" case. The fact is that these are the first wireless headphones in the world that have a touch screen built into the charging case.
The screen displays not only the simplest information, such as the charge level, the current time, but also the music and volume control buttons, there is an equalizer and other headphone settings. Moreover, placing the display on the case allows you to perform some actions without taking your smartphone out of your pocket. For example, you can receive calls, read messages, and view notifications. All control is carried out using widgets, made in the form of small icons. In fact, such a solution to some extent replaces a smart watch or a fitness bracelet. Add Wi-Fi and a slot for a SIM card here, then the novelty could replace a smartphone.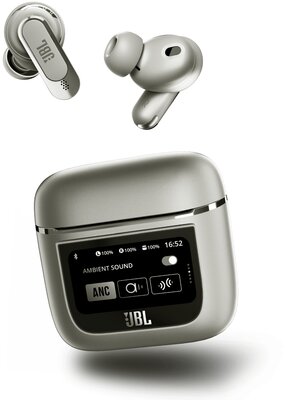 As for the headphones themselves, the JBL Tour Pro 2 features 10mm drivers and six microphones for active noise cancellation. JBL Spatial Sound technology is supported, there is also a sound transparency mode. The manufacturer claims that the charging case provides up to 40 hours of battery life for the headphones, that is, they can be fully charged 3-4 times by placing them in the case.
The cost of JBL Tour Pro 2 is 249 dollars (about 15,100 rubles at the current exchange rate). The headphones should be available in January 2023.
Source: Trash Box