For a couple of years, Xiaomi has become well accustomed to the TV market. As in the case of smartphones, the company has earned recognition on mass models with a reasonable price, and now it is striving for higher segments. Toward the end of 2021, a flagship line with QLED quantum dot displays was announced. What does the new technology give in real life and did you manage to keep a balanced price tag? I propose to answer all questions on the example of a 55-inch Xiaomi Mi TV Q1E.
Specifications
Display: 55″ QLED, 16:9 aspect ratio, 3840×2160, 60Hz, HDR.
Sound: 2x15W + Dolby Audio and DTS-HD.
Operating system: Android TV 10 with PatchWall add-on.
Interfaces: 3 × HDMI, AV-tulips, 2 × USB 2.0, Ethernet, digital audio output, 3.5 mm audio jack, inputs for digital and satellite tuners.
Wireless interfaces: Bluetooth 5.0, dual-band Wi-Fi.
Wall mounting: VESA 200×200 mm.
Power consumption: 180W.
Case materials: metal and plastic.
Dimensions (without stand): 1230.4 × 71.3 × 719.8 mm.
Dimensions (with stand): 1230.4 × 262 × 767 mm.
Weight (without stand): 14.3 kilograms.
Weight (with stand): 14.6 kilograms.
Appearance and display
Xiaomi TVs, apart from very inexpensive models, are united by a common design with a metal frame of the corresponding light shade. The block with indicators and the remote control receiver constantly moves around the case, in our case it is located in the center. And the metal legs are widely spaced around the edges of the TV.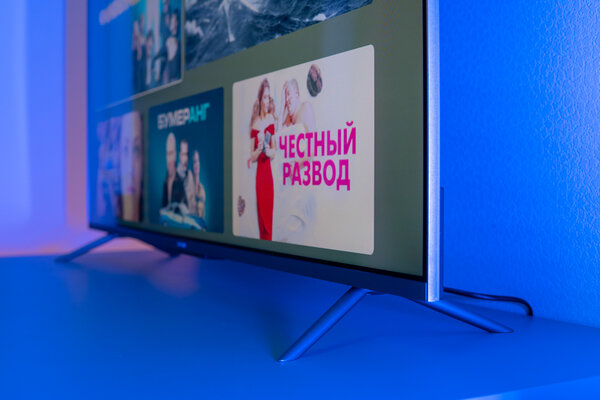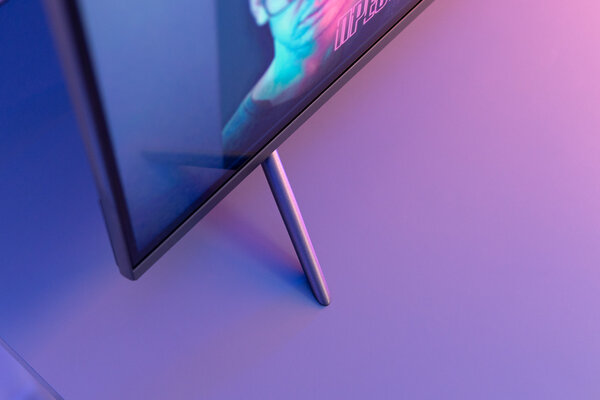 A nice improvement over the Mi TV 4S, which I tested a little over a year ago, is enclosed in a frame. Namely, in the absence of an additional thick frame. Xiaomi Mi TV Q1E has only a very thin matrix mount, flush with it.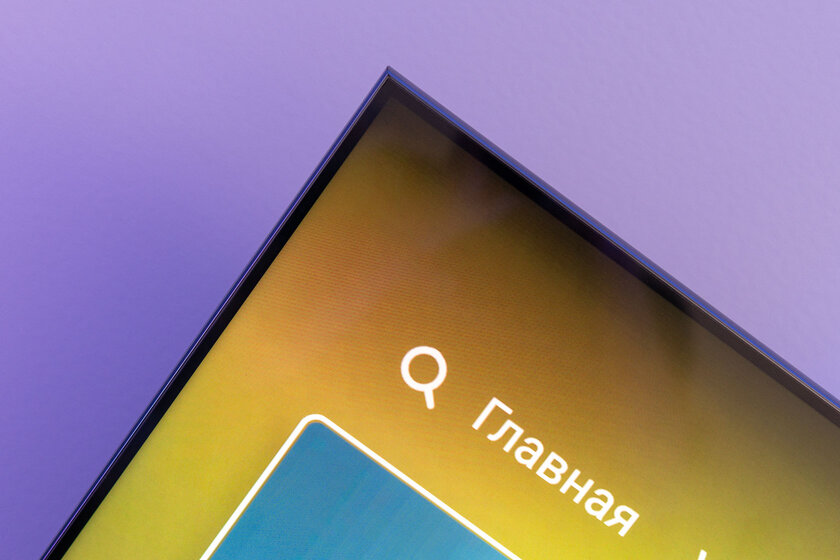 If it is not possible to put the TV on a wide cabinet, you can use the standard VESA 200x200mm mount.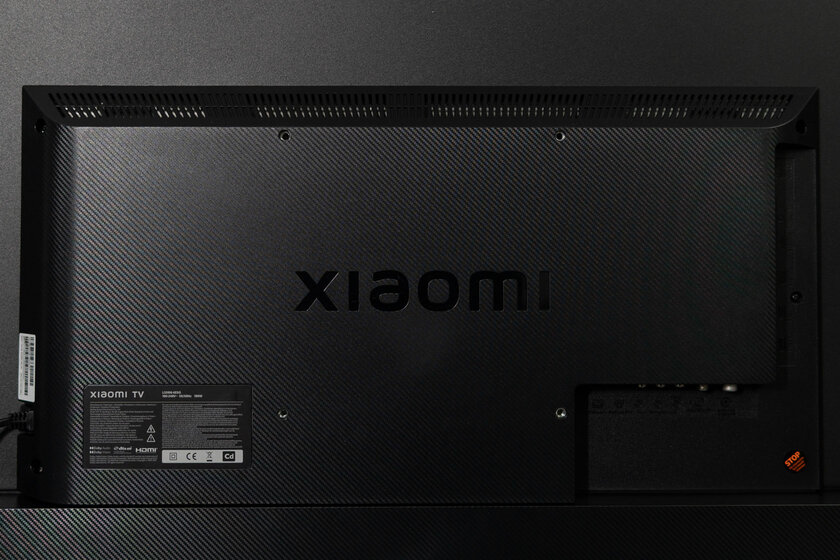 And now about the most interesting. Until recently, QLED was exclusive to Samsung TVs. It was they who finalized the LCD technology – they replaced ordinary white LEDs with a two-layer backlight with quantum dots. The main substrate emits blue, and the additional layer emits red and green. After mixing the three shades, a pure white is obtained, passing through liquid crystals. This made it possible to expand color reproduction to 1 billion colors, make the image more contrast (10,000: 1), brighter (up to 1,000 cd / m²) and juicy compared to conventional LED. As a result, the picture at 55 inches in 4K resolution (3840 × 2160) at 60 Hz looks impressive. Software features also contribute: Dolby Vision, HDR10 + and HLG to improve the picture and MEMC to improve smoothness. Brightness is fully enough to demonstrate all the benefits of HDR.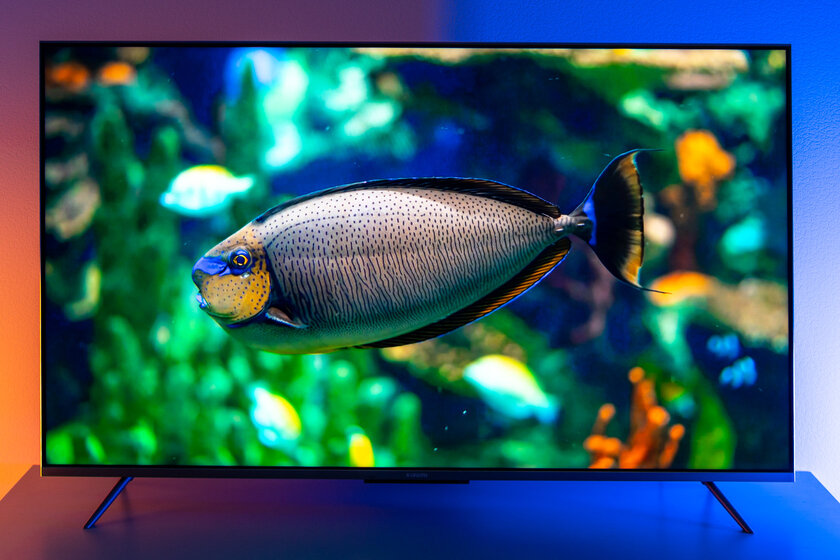 Another advantage of QLED over conventional LCD (LED) is the depth of black. If the glow is noticeable, then only at maximum brightness in complete darkness. Even contrasting image transitions from light to dark do without grayness, thanks to focused light from thin LEDs. However, you should not confuse QLED and OLED, in the second case, organic crystals do not glow at all when displaying black.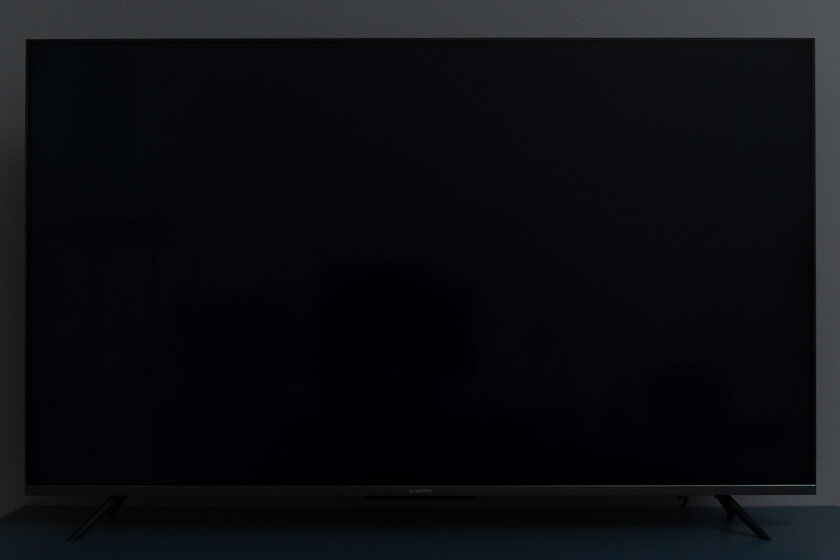 A pair of 15W speakers point downwards and are not sufficiently spaced apart. The sound is pleasant, I especially note the good intelligibility of dialogues, but the stereo base could be wider. To add color to music and enhance the effects in blockbusters, you should connect a soundbar – Bluetooth will help with this.
Shell and features of Mi TV
If you turn to the technical data, you can find Android TV 10, MediaTek 9611 with 4 Cortex-A55 cores, 2 GB of RAM and 32 GB of internal memory. Modest, but slightly better than competing smart TVs, and more than enough to play 4K content. The interface works without sagging, and the problem with the out-of-sync audio in the video that was present on older models has been fixed.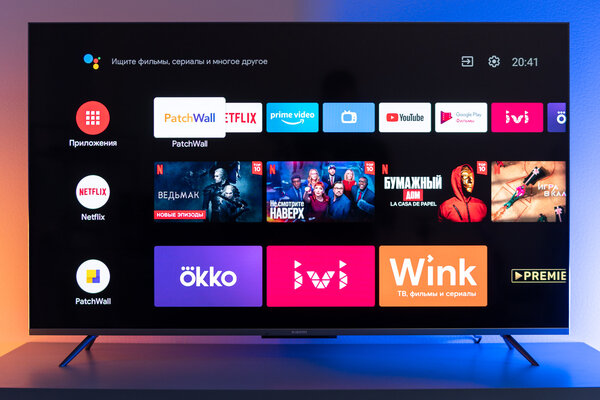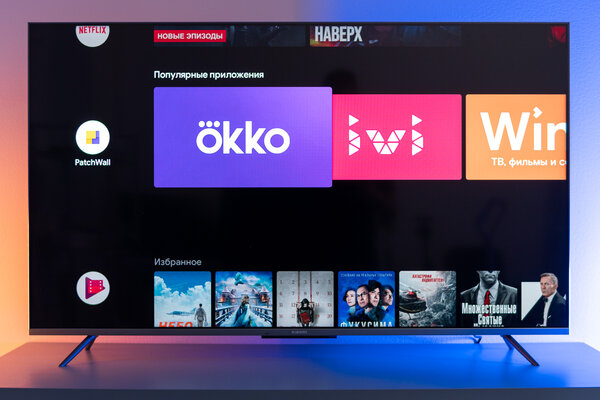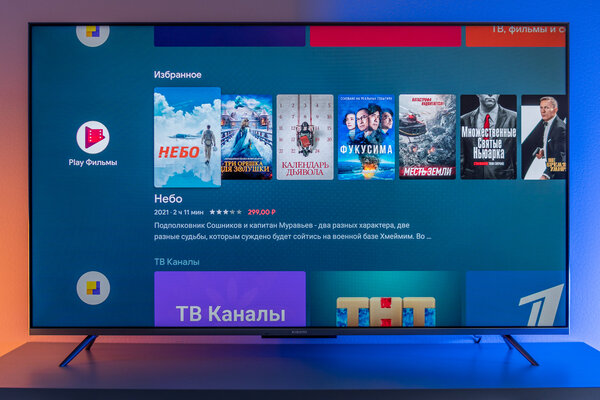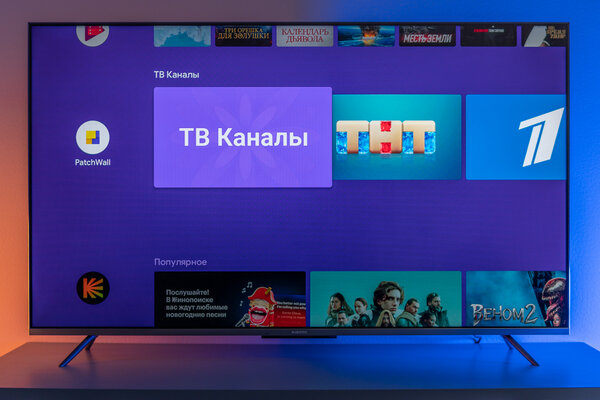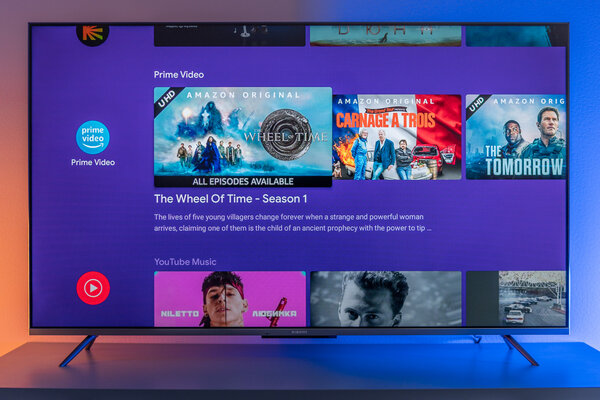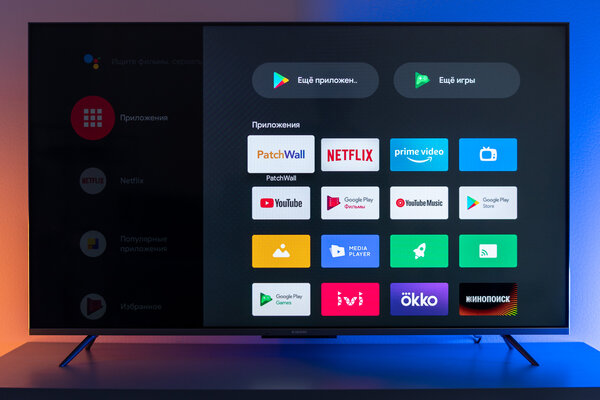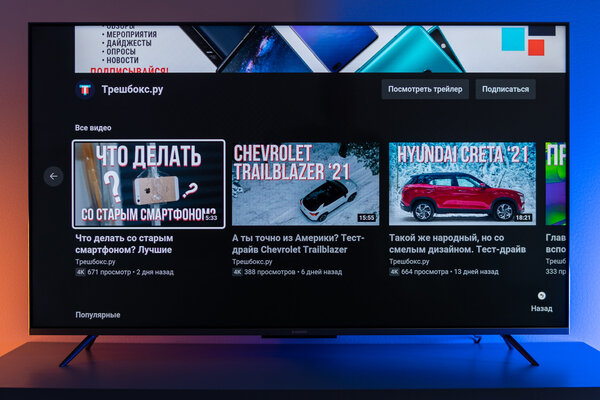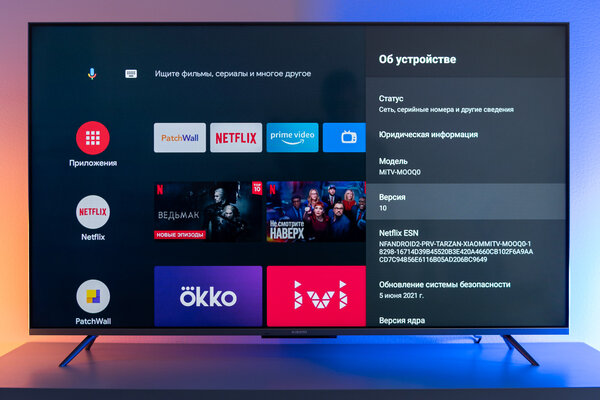 Xiaomi has a powerful PatchWall aggregator in its arsenal, perfectly adapted for the Russian user. It contains movies, series, TV shows, Internet TV channels from various Russian services from KinoPoisk to Rutube. Inside each card is a rating, a short description, and a list of roles – enough to choose an interesting movie. Xiaomi also notes interest-based personalization, but for a couple of weeks I did not notice the impact of algorithms. What else to wish? Probably Xiaomi should add cloud gaming and other interactive content. After all, the capabilities of smart TVs are now not limited to watching videos.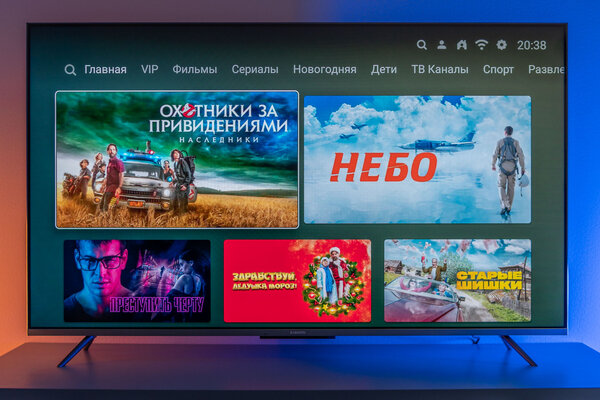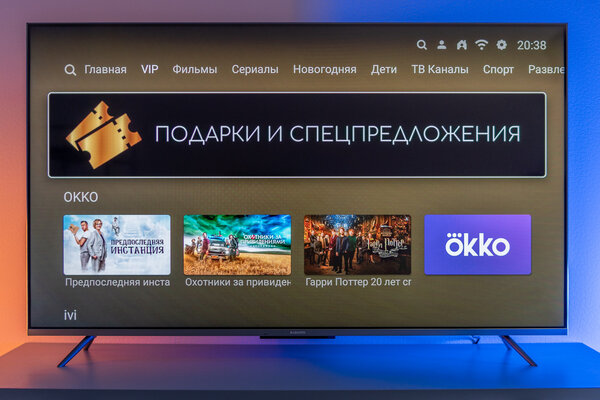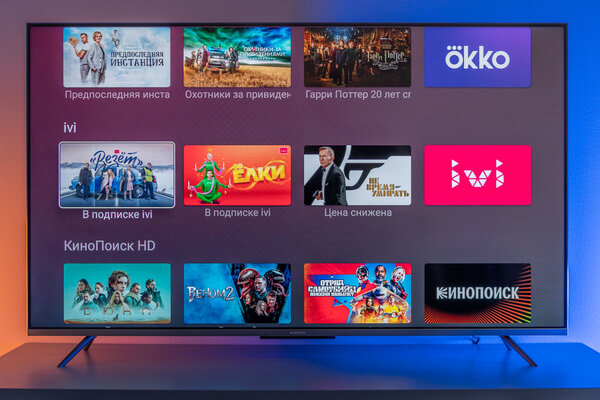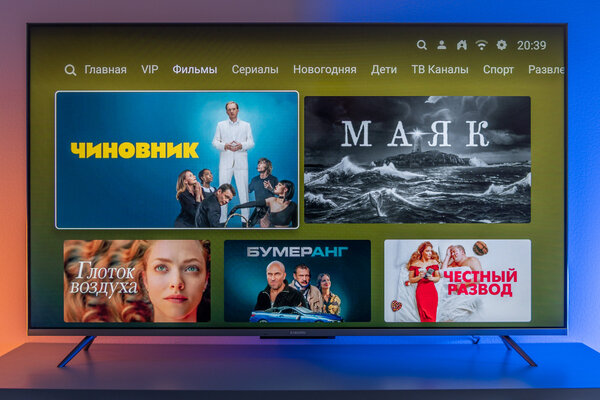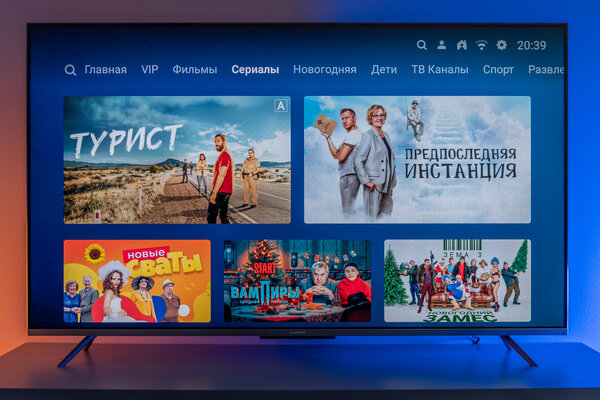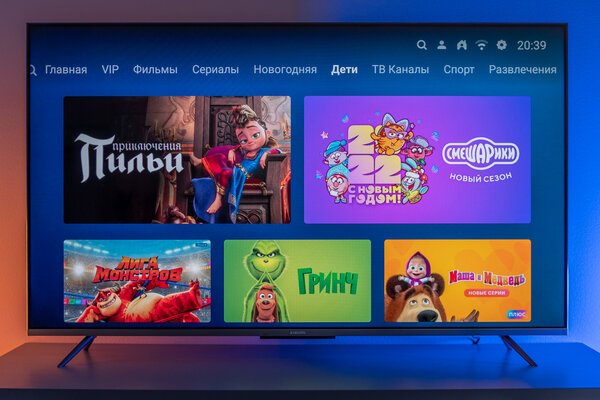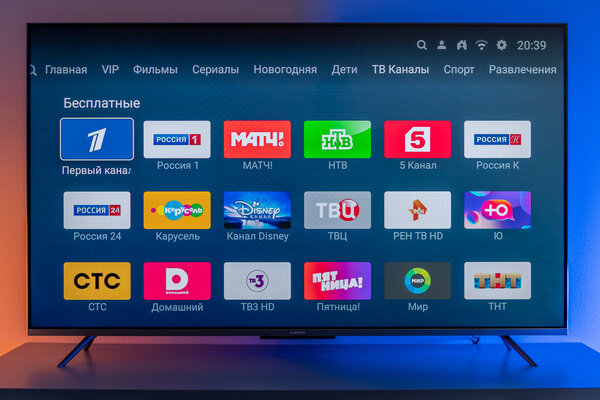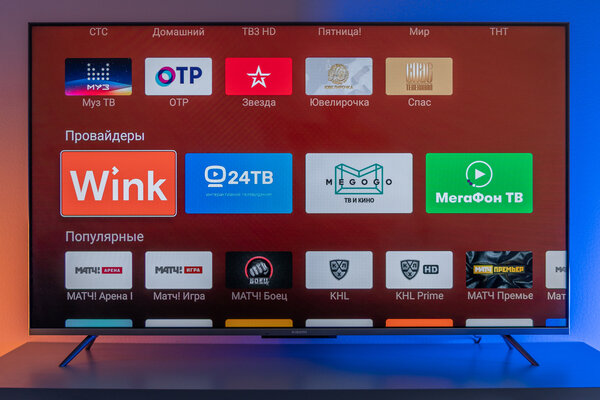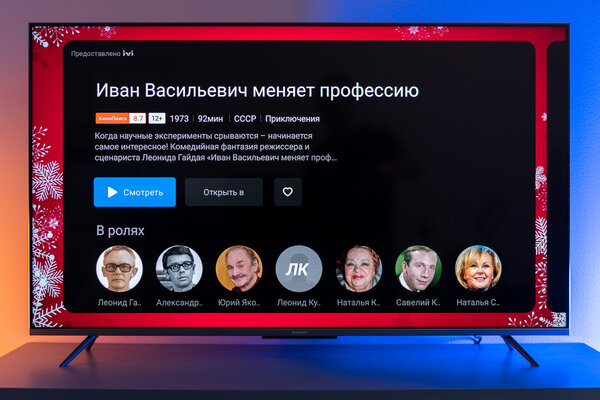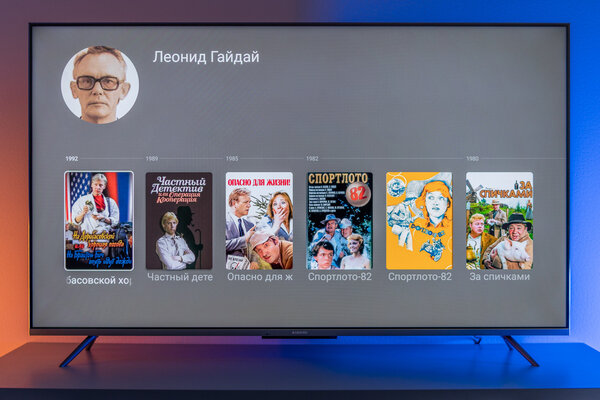 To fully use Mi TV, you will need a full set of subscriptions to all or almost all integrated services. This is the other side of convenience. As a bonus, promotional codes are offered for an extended trial period.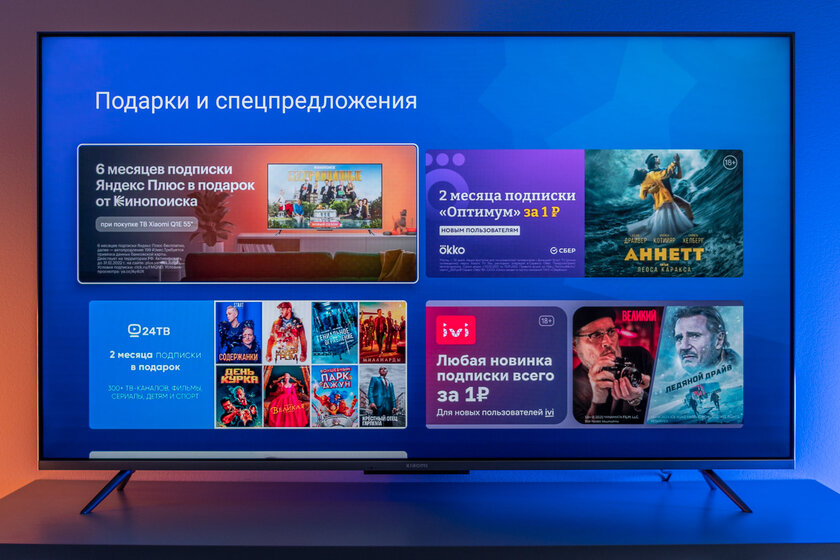 The PatchWall launcher can be selected by default. For all the time of use, I did not have any problems with the stability of the add-on: it works smoothly, smartly and very predictably. But no one bothers using standard Android TV, using selections in your favorite online cinemas, and launching PatchWall with a separate button on the remote control.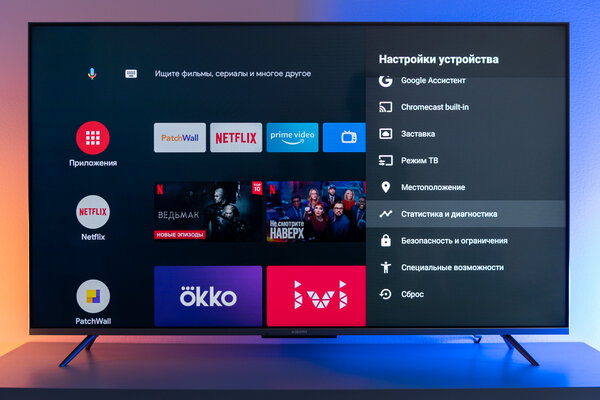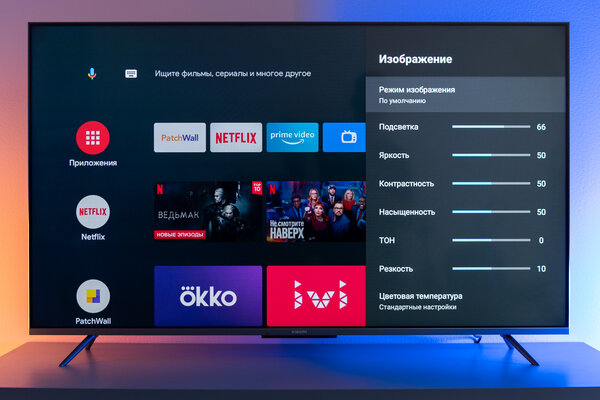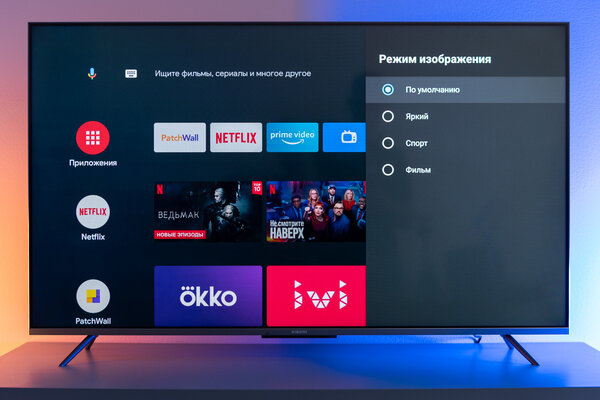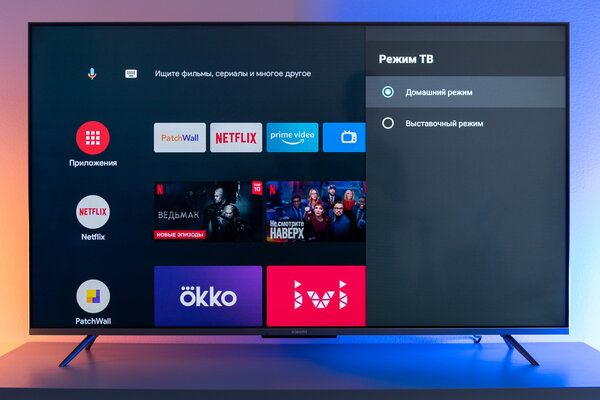 The remote control, despite the progressiveness of the operating system, is the most common – an elongated plastic one with a full set of rubber buttons. In Russia, separate keys for Netflix and Prime Video from Amazon are hardly useful, they cause dissonance against the backdrop of a chic adaptation of PatchWall. There is nothing more to criticize or praise for.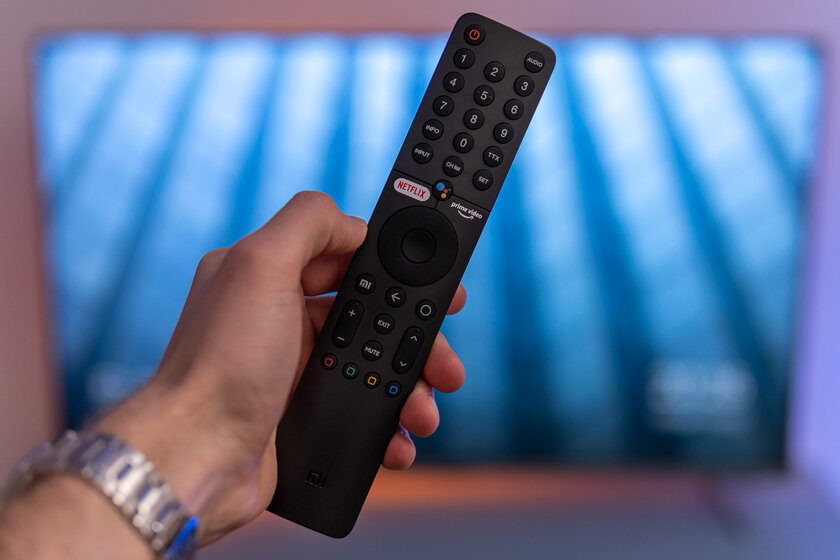 There is no microphone in the remote control, it is located directly on the TV case. Audibility within a small room is good. Another advantage is a hardware recording disable switch, with which you definitely don't need to worry about privacy.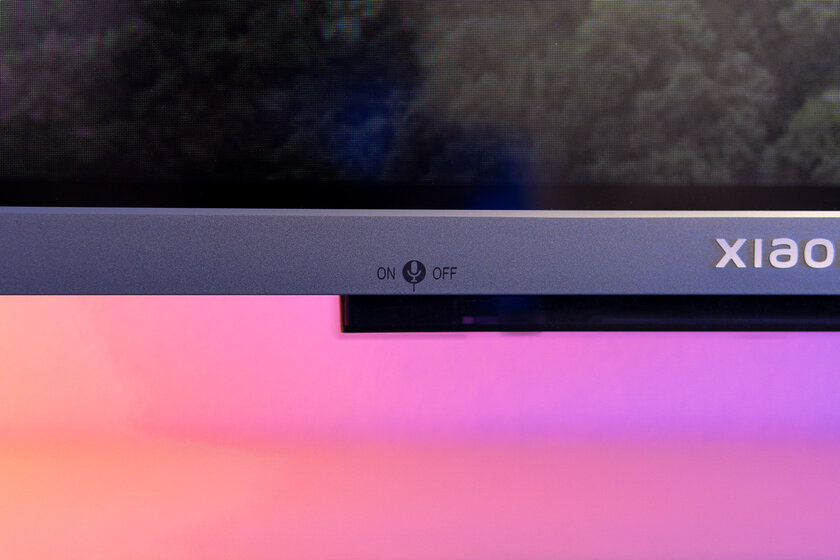 Wired Internet via Ethernet or wireless via dual-band Wi-Fi – the choice is up to the user. Optimal for 4K content is 5 GHz Wi-Fi with a good router. One of the three HDMIs supports eARC, the composite input is brought out by three separate tulips without adapters. Also available are two USB 2.0, digital and analog audio outputs. In addition to the standard DVB-T2 digital tuner, Xiaomi has taken care of satellite DVB-S2, in which case the access card will need to be connected via the CI slot. All connectors are located so as not to be blocked when hanging the TV from the wall.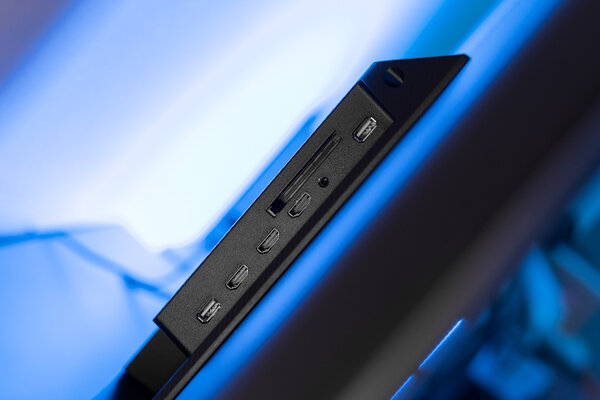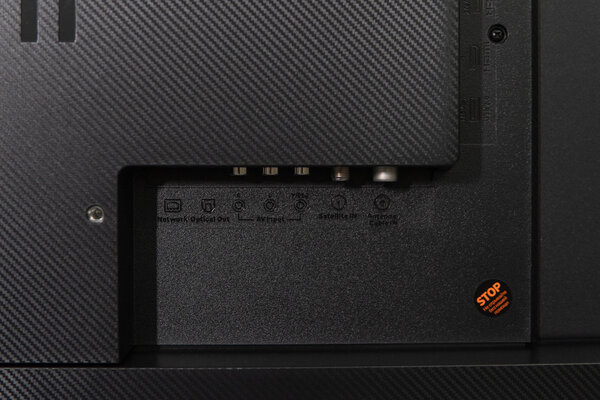 Review after two weeks of use
This campaign of Xiaomi to a higher segment can be considered successful. If we compare QLED with conventional LED, the new matrix really gives a better picture and impressive brightness. I especially liked the depth of blacks: there is almost no bluish glow. The tested Mi TV Q1E 55 can be called an excellent offer for people who are looking for a quality TV with Android TV 10. After all, Android, unlike most Smart TV operating systems, has an excellent library of third-party applications. Only a simple remote control confuses me, while with previous models there was a modern compact remote control with a minimum of keys.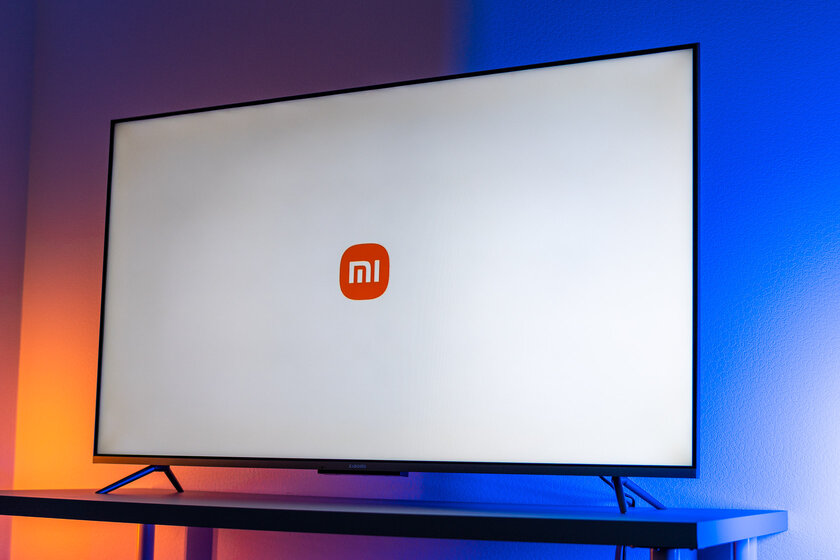 The novelty was estimated at 65 thousand rubles. Looking at Samsung's competing QLEDs, the 55-inch models are just starting there. So, Xiaomi Mi TV Q1E 55 is on the market – you can't call it cheap, but the offer is definitely profitable.
Pros:
corporate design with gray metal;
neat frame flush with the matrix;
QLED matrix outperforms conventional IPS and VA;
excellent selection of content in PatchWall;
hardware microphone switch;
a complete set of interfaces without adapters;
built-in DVB-S2 satellite tuner;
attractive price compared to competitors.
Minuses:
conventional remote control with rubber buttons.