Since the end of July, Bitcoin market participants have consistently realized a net profit of about $ 1 billion per day, while the price of the cryptocurrency rose from $ 31,000 to $ 52,000, the Glassnode company notes in its latest report. According to analysts, this suggests that the market was supported by impressive buying on the way up.
In addition, long-term holders are now realizing profits from coins that they purchased between the $ 18,000 and $ 31,000 levels. Long-term holders in this classification are holders who received their coins more than 155 days ago.
"Note that these prices formed in the 2020-2021 bull market and suggest that long-term bitcoin investors may become more active traders, take profits, use derivatives to hedge risks, or speculate more than in the first or second quarters, – write Glassnode. "It can also indicate uncertainty in the current market structure, since coins are being spent that were purchased at close to current prices."
At the same time, the authors note that, despite the increase in sales from the described group of bitcoin holders, there is a high demand. As confirmation, they point to the fact that the aggregate balance of bitcoins on exchanges has continued to decline over the past week and reached a new multi-year low of 13% of the circulating volume.
"This is bringing exchange balances back to levels that were last seen in February 2018," the report says. "Note that the price was then between $ 6,000 and $ 10,000. The accumulation of coins after March 2020, when the price rose from $ 3,800 to over $ 64,000, reflects a significant increase in the capital inflow required to withdraw this relative volume of coins."
Notably, exchanges such as Bittrex, Bitfinex, Kraken, Gemini, and Binance recorded inflows throughout most of 2020 and 2021. This is especially true for Binance and Gemini. However, after the market crash in May, inflows slowed down and then turned into moderate outflows.
At the same time, the exchanges Bitstamp, OKEx, Huobi and Coinbase have recorded an increased withdrawal of assets since March 2020, which has only accelerated in recent weeks.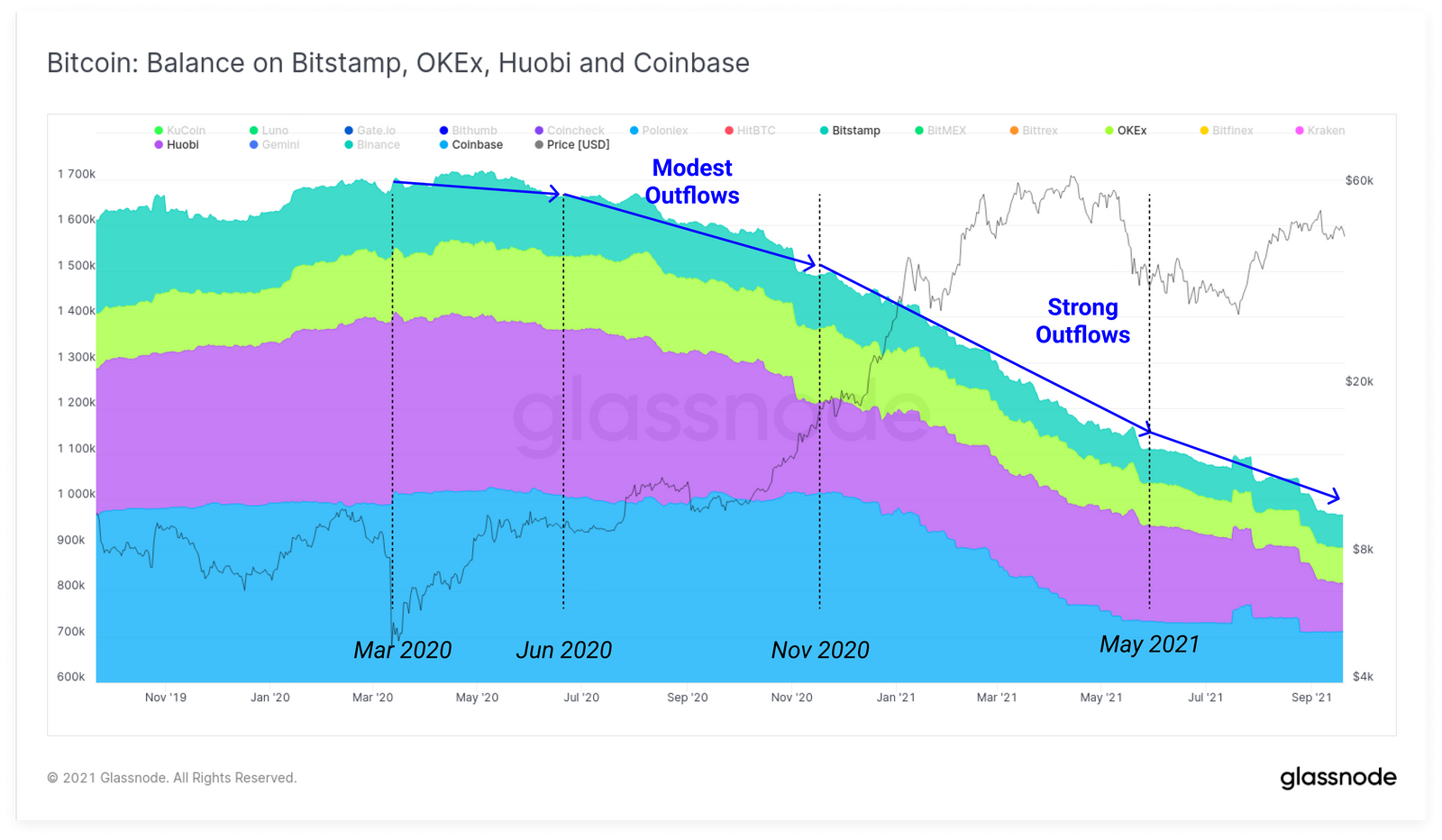 As for the miners, they have been accumulating coins more actively in the current cycle than during the previous ones, Glassnode says. Sales on their wallets were observed in January-February 2021, after which the balance increased by 14,000 BTC in six and a half months. A moderate expenditure of 1,360 BTC occurred at the end of August, but since then, the balance of miners' wallets has begun to rise again.
Stay in touch! Subscribe to World Stock Market in Telegram.


I am Derek Black, an author of World Stock Market. I have a degree in creative writing and journalism from the University of Central Florida. I have a passion for writing and informing the public. I strive to be accurate and fair in my reporting, and to provide a voice for those who may not otherwise be heard.